09/07/2020 UPDATE
HAPPY LABOR DAY TO YOU & YOUR FAMILY!
HAPPY LABOR DAY TO YOU! "Do what you love and love what you do, and you'll never work a day in your life" says my favorite Chinese proverb ever!
If this isn't true for you, come and visit MY playground and I will show you what happens when you step into my world. In fact, I explain all this on my Home Page entitled: What Kind of Dominatrix and Mistress am I? You read the details and you WILL have some fantasies...I do all the time.
Femme Fatale is coming along and I'm thoroughly enjoying that devious little sense of creativity when I collect another devious device, or organize the Panic Room which was completed recently.
Enjoy your holiday and this lovely weather and DO, drop me a line. Mostly, I'd love to hear how you're doing and any fantasies you'd like to share ❤
Fondly,
M Sharina 💋
---
08/31/2020 UPDATE
SESSIONING CAREFULLY & SAFELY - ALSO, NOTE FROM A MASOCHIST
So, how have you been? I've slowed things down a bit. I take 3 days a week where I never book anything and leave them open for "just in case."  
Also, please remember, I'm only scheduling sessions: one in a 24 hour period of time to properly sanitize for Covid-19.

I enjoy you, the rapport we have, so thank you for taking the "drop me a line" to heart. ❤

Until next time...
M Sharina 💋
Conductor of Experience 🔥 
So, I have a "thank you" note in my Reviews from my S.A.M (Smart Ass Masochist) Teddy. I'll call him Teddy, because he's very sweet. Only when he starts typing to me does he feel brave enough to try and tweak me, but this Mistress never forgets,  just ask my loyal slave mike. Point of reference: years ago, slave mike told me he had a shrine for himself in Ham Lake. But the only ham, was mike. (4 months later, it was a "Come to Mistress meeting." Even still, when there is an attempt to tweak the Mistress, my modus operandi is to back off, not give what I am being manipulated to give. Just like when I see and feel the suffering, makes me want to give one or more HARD strikes. So, on goes the game with my S.A.M Teddy. There's a fine line between reality and fantasy. Thank goodness I know when to ride that line of reality...

Stay tuned, I see Teddy often enough.

"Whip me says the masochist! No, says the sadist."
---
08/26/2020 UPDATE
THERAPEUTIC STRUGGLE!❤
I see a theme of struggle in my sessions lately. Whether it is wrestling with pain or being obliterated with teasing. The struggle is REAL. Sign of the times? I think that is part of it. To be wrapped tightly, so tight, any kind of stimulation cause a bit of a physical struggle as well as the direction of mind fuck struggle. The combination of tease and denial and pain and pleasure is delightfully immense AND very much needed for stress relief. It's like when you run through the mire, step over coals to find you are elated for the accomplishment and you deserve a reward. 
Of course the same kind of therapy may be experienced with severe teasing. It's like too much of a good thing, but there's nothing you can do about it. I might whisper to control yourself for me...to make you last so I may use you. "Use me how Mistress?" That is where the Mind Fuck comes in. Do you care? No. Do you wonder what is happening? Yes. Do I love manipulating your brain and body, yes. I thrive on it. I admit it. I'm like a parasite. I feed on your emotions and the ones I stimulate are the best. I control you.
Remember, I'm only scheduling ONE session in a 24 hour period of time. If you are visiting from a hot spot, I need to protect my studio and the people who visit. I take precautions. 
I'm happy you have been being careful and have remained untouched by our circumstances, which although tireless, we need to remain VIGILANTE! Don't forget to drop me a line. I Love hearing from you...
As Always! PURE POSSIBILITIES are in our future!
M Sharina




---
08/14/2020 UPDATE
THANK YOU!❤
Your Thank-You notes to me of gratitude mean the world to me. I also get to know what quiet thinkers are experiencing during their time with me. I always get a certain feeling about the cohesion between us and I love finding your secret pleasure center, even through strict humiliation, doggy play or crossdressing.
In receiving your Thank-You's, we share a special bond. My experiences with you are special. I love and appreciate your trust in me, taking what you love, and translating it into an indelible mark in your memory bank. I have them too. I think about how shy you might have been when we first met or how far you've come in your journey to explore. This kind of play is not always just "play". It is an integral part of taking your experience out into the world whether you share it or not because your energy changes, as you've been affected. I love that. It's therapy. I take and mold you to a simple and calm way of being. Bravo to you for taking that first step in your continuum of "who" you see yourself as being.
So, THANK YOU for sharing yourself with ME. I enjoy every bit. You amaze me and even under my mask, through my eyes, you know I smile.
So, keep me posted.  Drop me a line, stay safe and know, that you mean the world to me...
M Sharina



---
08/05/2020 UPDATE
SESSIONS, THRILLS, AND IDEAS FOR NEXT TIME!
Quick check-in for the week! Thank you for your notes, I love them, especially the one who described wanting to take the funnel gag further. He says, "Next time I would appreciate it if you would fill the funnel first, then force me to swallow without spilling a drop." My answer..."CERTAINLY!" This kind of kink isn't for everyone, but the side that strikes me is the "sacrament" and the invasion of taking your Mistress in. 
Fantasies? Drop me a line because it's like a confessional, only to someone who understands you.
Be well, you look kinky in your mask...


M Sharina
---
07/28/2020 UPDATE
THRILLS, SESSIONS, AND STAYING COOL!
How are you fairing slaves, damsels, masochists, voyeurs, tourists and sensualistic thrill seekers? I've been savoring my time with you, especially the newbie novices. I love guiding you into MY WORLD with a kind of comfortable coercion.
Hot outside, cool in the dungeon with heat emanating from your Mistress' panties. Speaking of FIRE, I've got some new fire wands to play with AND some spikey weights for the nether-regions. A gadget arriving today invented to LOCK and chastise your arse (A line forms, hands raise)
I MISS THE STATE FAIR!!! So let the games begin in the studio and we'll share snacks if you like. (Looking for the deep fryer, marshmallows and snicker bars)
Read further (below), it's important, but I'll say "bye bye" for now. Drop me a line and tell me what you miss most about the old summers...

M Sharina
*NOTE REGARDING SESSIONS:
I am ONLY allowing ONE session per 24 hour period.
Today I cleared out 79 messages from my VM. I receive alerts on my phone and listen, but I may have missed yours. If so, call me back. Same goes with Emails! It takes me 1 - 7 days to respond.
VOICEMAIL succinct with Name, number, good time to call back.
EMAILS with "INQUIRY" in the subject line IMPORTANT.
---
07/19/2020 UPDATE
INTERESTING WEEK OF SESSIONS
It's been an interesting week which is why I haven't posted here in a while. I love communicating with you and I especially love knowing that even though we are kink related, life still moves through transitions whatever they are. Thanks for keeping in touch!

I'll throw out some exchanges for FUN! Here they are:

"Those shoes are sexy but they are super high heels." 😊

"There is something quite vulnerability provoking that happens when you are strapped down and exposed."

"Tom...you are so PERVERTED!!! But, I love it! I did like teasing you for sure...BUT I did miss whipping you into little bits!"

"As I sit here fantasizing our next adventure, I start having questions pop into my head."

"like dressing you is the gateway to your being a "plaything"?

"I think I've perverted the puddle, you being the puddle."

"Right now, I like the idea of my doctor sending me to you for experiments."

"I definitely prefer shaving you over you doing it yourself."

I enjoy you SO MUCH! ❤

So, you know what I like, drop me a line while continuing to stay "squirmy pants" keeping your mind fertile and very SEXY!

💋
M Sharina
---
07/02/2020 UPDATE
MY SESSION SAFETY & PRECAUTIONS
My studio is a SAFE ZONE for you and for me. Sessions are being spaced out one per day, AND not every day. I require those from out of town to wait until cases of Covid-19, level to an obvious downturn. (Not taking travelers from hot spots)

If you have not received a response from me yet, I am juggling a bit with extra steps to keep us safe. EMAIL is the best way (right now) for initial contact.

CLEANLINESS=SAFETY
After a session, toys are sterilized in medical grade solutions (as I've always done), as well as heat. The air is thoroughly sprayed with disinfectant, door handles, bars, clips, toilet, all surfaces and floors are alcoholized, disinfected, and cleaned thoroughly.

I have always been fastidious about the cleanliness of equipment, toys, and areas within my studio.
My slave mike has been STELLAR in assisting with my cleaning protocol!

Now for a fun thought, because I know you like my kinky brain to keep you perky. I had a session with someone yesterday who loves heavy nipple play. It had been a while since he's had a session and was VERY hungry to suffer for me. He did. I stretched out his nipples with forcep clamps, TEETH ONLY, no rubber and clamped TIGHTLY. After I taped him to my bondage table. He COULD NOT MOVE. Just the way I like it...As he was leaving, he says, "I'm stress free!!!" It was SO FUN to make him STRUGGLE!

I've missed you. Tell me what you've been up to and drop me a line.
Stay safe, and spread only LOVE!

M Sharina
---
06/22/2020 UPDATE
BACK IN THE LEATHER SADDLE
I've been having some very interesting sessions lately...playful, intense, erotic, terrorizing,  sensual, nurturing, sadistic...cathartic and NAUGHTY. I'm back in the saddle, I've been riding out the pandemic with patience and perseverance settling nicely into my element, like a fish in water, a cat in feathers or a bird in paradise. It feels so good.
If you haven't received a call back, email me, I've been busy with executing a certain set of plans, email returns and calls along with getting back to my studio refurb. Medical fetishists and crossdressing gurls get ready!
I've missed you, so drop me a line to touch base. You know I still love your stories and it's nice to know you are still thriving and ok.

M Sharina
MN Domme / Minnesota Dominatrix / Serial Feminizer
---
06/07/2020 UPDATE
TRICKLING IN SESSIONS
I wanted to touch base with you and let you know I have been trickling in sessions. I FEEL a sense of lightness. I felt a shift in myself after my first session back. The world around me seems clearer, I feel a sense of peace, and my dreamy predilections of deviance don't rule over my kink starved mind. But now...yes, LOVING every minute.
So, there's this: The Covid question is: It's not IF you were exposed to the virus, it's how much. STAY FROSTY WITH THE PRECAUTIONS (follow guidelines).
A couple of changes to the website coming up for your viewing and listening pleasure...VERY SOON!
How have you been and what have YOU been up to? Drop me a line, I always love it when we touch base.
M Sharina
The Conductor of KINK
---
06/01/2020 UPDATE
SESSIONS BEGIN
It's been an incredible 3 months and all of us feel as if things will never get back to normal. However, I scheduled a first appointment and through it all, it's important to get to the peace of balance...
Hang in there my leather and kink friends. Continue to hold a space for peace that extends out. You need two sides of resistance for resistance to take place. Be on the side of PEACE.
Thank you to my sweet circle of "loyals" for the birthday salutations as well as gifts! WOW! You warm my Mistress heart during a very difficult time in our world.  We shift our world and spread the love.
Thank you for your continued concern and super sexy letters. Drop me a line, I always love hearing from you! Things are going to warm up in the dungeon...know THAT! Starting with the crack of my singletail whip!
M Sharina❤
---
05/27/2020 UPDATE
SESSIONS BEGINNING FIRST WEEK IN JUNE
As I post this, my birthday is in two days, Friday, May 29. I reflect on this past Memorial Day, honoring those who've died for our Country, and I also acknowledge the loss of well over 100,000 lives due to the coronavirus and Covid-19. All of this brings to my mind how precious and important life is. Do you have any regrets? We all do, and some of us have second chances and opportunities.

With precautions in place, I am planning on the first week in June (1) for accepting sessions. I do have a waiting list at this point, so please let me know if you'd like to be on it. My list has grown from 11 to 20...

Thank you for sharing your life with ME. I am honored and touched by the things you tell me. We are going to be ok. Be safe, stay "FROSTY" but most of all do what makes you feel happy. Drop me a line and tell me about it. I love hearing from you, especially now.❤

M Sharina
---
05/21/2020 UPDATE
OPENING SOON
If you saw my posting on Twitter, you know I've been thinking hard on my MEDICAL ASYLUM! I've also been taking sexy pics of my slender soles barefoot and in heels, so be patient for those pics to swing out of the gate! My hand is twitching for some therapeutic OTK Sharina Birthday spanks!
I've received a lovely and very interesting gift from my foot boy in AZ. I've been gifted with SPURS that attach to high heels. I'd like to strap them on to my bare feet! Pics coming soon.
So, this birthday will be different than any other birthday I've celebrated with you. I'm not sad so much as I'm terrifically grateful for yet another year, especially another day. Although super human in other ways...you know, I'm also not set apart from simple or dangerous illnesses, so I've been very careful in opening up. I get emails and phone calls every single day, and I am tormented as well, and on the fence about how and when. I will be opening soon, but I'm still watching numbers for Minnesota and The Twin Cities and surrounding areas.
Do I want to take a deep dive into your fetishes, you bet. Because YOUR fetishes become MINE and I have an affinity for each and every one, because it's the *feeling* of control I'm addicted to AND tweaking your experience so we're both in oblivion. Get it? I get it. I got it bad too.
Playing in the recesses of my own fantastical mind able to on occasion run a muck over the phone. Here's a picture of me with wet hair. Lounging around after a diabolical deed as a "black widow." You know what a black widow is, right? I'll tell you the details soon, but for now, it's just our little secret, capiche?
Want to hear more? Drop me a line and I'll tell you more secrets.
M Sharina
---
05/11/2020 UPDATE
PANDEMIC RESPONSE TEAM at Femme Fatale is working very hard to make sure all systems are GO very soon!
Doctor Nicole, Medical Dominatrix has been advancing her skills in surgical techniques for her department of Male to Female transformation. She is a specialist and admired in this field by many.
Ms Nicole, Medical and Psychological Scientist in the studies of Gender Dysphoria who also takes pride in her unconventional ways of coercing your true gender to the surface, has been entertaining an "experimental program" for those recommended to complete their transformation.
MSN department of physical therapy has taken on the role of making sure your mind and body has undergone sensorial training for your spirit to continue to thrive in a new world. "Therapy is therapy" so says the expert Doctors, Nurses and Scientists at Femme Fatale, not only in the Medical Clinic, The Asylum Ward, and The Psychological Units, but also in the "Panic Room" for advanced training and long term detention.
You see, no worries! Therapy is coming soon! I have a list of those I'll notify first. Soon, you will be getting better, feeling like yourself and you'll continue to march on as you always have.
For now, stop biting your fingernails, mix in a healthy salad and drop me a line. You know I love hearing about your desperation...

M Sharina
---
05/05/2020 UPDATE
Are any of you finding KINK in any of the shows you're watching?
I'm a dedicated fan of the show BILLIONS, and not just because in the opening scene a man is on the floor tied up with what appears to be a dominatrix loosening his gag. What happens next is classic, at least to me. Here is the scene: Enjoy
Hot scene from Billions

This is my very favorite scene...Do you have one? I find OUR secret kinks and fetishes are finding their way into the mainstream. How do you feel about that?

Me? Shelter in place until further notice! I will be trickling in the torture very soon.

Drop me a line and let me know your thoughts and how YOU are doing...❤
M Sharina
---
04/27/20 UPDATE
So, I'm having strange dreams, you too? Here's one of mine:
I had a dream where I am following a man (in his 20's, cute but punky) who took my tablet. He lead me to an area where he said he put it in a storage area. This was like a makeshift warehouse, the room was so big it echoed. I made him show me where it was. It wasn't there. I proceeded to shove him into the wall with full force asking him if he thought I was stupid. He smirked. I slapped him and I kept slapping him until he answered correctly. My left hand was around his neck as I slapped him slowly. I derived much pleasure from this. (In my dream and in real life)
I miss you. I can't be any clearer. Each and every scene brings me joy as I peel the onion and mold you.
I know you miss me too. I want us to be safe, so in the meantime, drop me a line, you know I love that. Things will get back to normal if we put in the time to be safe now.
For now, thinking on you and sharing some special notes.
Stay in touch, drop me a line...❤
❤ M Sharina
---
04/20/20 UPDATE
So, is Femme Fatale ready to conduct sessions yet?
Here's what I'm up to. I'm returning phone calls and Emails beginning today and tomorrow, so PLEASE be patient, I have quite a few in the Que. I'm looking to schedule sessions in May.
It's been a long road to hoe, but your safety is of the utmost concern to me as it always has been, so precautions will be in place at all times for your safety. (EXCITED to PLAY!)
As I told Sam from New York, "I've realized the constant stream of endorphins and the energy exchange gives me so much. I miss that! But hangin' in as I hope you are as well."
I will be moving ahead with my MEDICAL ROOM "The Asylum" where my special "Doctoring skills" from a trained Medical professional and Dominatrix will be utilized especially for unique cases. Perhaps you've had a mental breakdown and need to be put back together. Perhaps pain therapy or soothing latex sensory deprivation therapy is the correct Rx.
Being cautious will be in place for a long time, but it looks like we may be seeing a light at the end of the tunnel. Waiting for the light to get brighter.
THANK you so much for your letters! I cherish every single one whether it's a fantasy you've shared with me near or far, your loneliness, your fear or you concerned about your Mistress.
Stay tuned, and do drop me a line...❤
M Sharina
---
04/14/2020 UPDATE
How are you holding up?
Days in quarantine? I've lost count, but it's NECESSARY, so do it! No time to relax on our vibrators...WAIT! I meant, "rest on your laurels " Good vibes are ok.
I'm going to share a couple of stories with you and some of my thoughts. I love it so much since I miss playing with you so much. I can't share them all, so here are only a couple I've chosen to share with you. ENJOY! Let's always keep in touch.
Click on the link for stories:
LINK HERE
Thinking of you EVERY SINGLE DAY!❤
M Sharina
This email address is being protected from spambots. You need JavaScript enabled to view it.
---
04/07/2020 UPDATE
Anyone else in "the drift?"
I've totally lost my rhythm of life because life looks different now.
I have been LOVING your E-mails telling me how you are, AND sharing your fantasies. Because I became interested in D/s through the Internet, and (years ago) used to meet people by accepting instant messages, I could exchange fantasies with those I'd never meet in person. But more than that, I could DO ANYTHING I wanted in an IM. Castration fantasies were a fav. I'd also find myself reaming someone with a big cock over the backside of a sofa. I have no idea why those two things were the best, but maybe it was because the words of describing it was brought out with a feeling of intensity at that time.
Anyway, I loved every minute. It juiced my mind, and had me crave something on a higher level...hands on for sure. I don't think I've shared this with you before, there's more, but this for now.
How are you holding up? I hope you and your loved ones are safe. Near or far, drop me a line...❤
M Sharina
This email address is being protected from spambots. You need JavaScript enabled to view it.
---
04/03/2020 UPDATE
Thank you so much for the love letters! I've been very concerned about my lovely people and I'm very happy to have given and received check-ins. With those I know who are in the field of medicine, if I don't hear back immediately, I worry very much. Please stay safe everyone!
I will be doing more posts on twitter as well as my website. Still construing a new Only Fans and Patreon.
Oh! Thank you for the stories and the communications! I've had some withdrawal (I dream about it) but we will be back in the PINK or the SPANK or the SNAP of my SINGLETAIL, but make no mistake...we will connect ourselves. Hang in there, looking forward to the possibility of May ❤
In the meantime, you know what to do, drop me a line...❤
Mistress Sharina
CORONAVIRUS TIPS
Wash your hands often (30 seconds with soap)
Avoid close contact with people who are sick
Don't touch your face
Cover Coughs & Sneezes with tissues and throw in trash
Clean & Disinfect frequently touched surfaces (including cellphones)
Wear a mask outside & in grocery stores
---
03/23/2020 UPDATE
Coronavirus / COVID-19

GOOD NEWS!
Touching base! It's a very strange time in our lives and a time to be very careful with ourselves.
What do I suggest? Follow CDC guidelines and listen to those who are experts in the field of medicine.
As for what Doctor Nicole suggests, well, that's a whole different story. I say, laugh, stay happy, fantasize and keep your body humming. SHARE with those who need something. Check in with the elderly and family.
Thank you for checking in with me! All is well in Mistress Sharina's world.
One thing you could do at this time, is drop me a line, or a sexy story or a detailed fantasy of yours. I love the connection...
For more connection,  I'm putting together ONLY FANS and PATREON for you to stay kinky! Let me know what YOU would like to see...
Stay strong and informed. This will be over when we stay vigilante.❤

M Sharina
---
Real Time Dominatrix & Mistress Femdom Sessions, Fetish, & Foot Fetish in Minneapolis, MN
I'm Minneapolis Dominatrix, Mistress Sharina Nicole. An alluring, unique, interesting, quick-witted, sweetly calculating, highly-skilled, personable, seductive, severe, & creative Mistress located in Minneapolis, Minnesota. As many have told me, I am "the Real Deal" in domination, submission, fetish, and kink. My experience is very extensive, and my real-time sessions experience spans decades. My fetish skill set and interests are vast and varied. Through exploring my website, you'll learn that my skill set runs deep, and covers many different fetishes and kinks. 
Bondage, Kink & Fetish Are My Craft
If I were to put into words what makes my kind of domination different from others, I would say it starts with a question numerous people have asked me over the years...
Q: Many have asked the question, what is my favorite type of fetish play?
Is it bondage, cross-dressing, feminization, BDSM slave training, corporal punishment & discipline, foot fetish, foot worship, trampling, cbt or?
I'm sure that they ask to see if our interests are compatible.
A: It's difficult for me to answer this as I have MANY likes and interests. Once I begin expressing any kind of fetish, I find myself swerving into a myriad of thoughts and ideas and then I'm corset deep in the feeling of talking about it. So, for me, it isn't the fetish or the kink, it's the connection, the energy exchange, and controlling another person that drives me. I get a thrill out of my domination & fetish play.
Facets of My Personality
Here are a few elements of my personality. I am a Dominatrix, a Femmedomme (or Femdom), a Domina, a Mistress, a Domme, a Goddess, a Queen, a female Dominant, a sensualist, a Mommy, a School Marm, a disciplinarian,  a Mistress Doctor, a Mistress Nurse, Queen of Female Superiority, OTK spanker, Warden, Prison Guard, Therapist, an Office Boss, and a woman who takes control...just to name a few.
In role-play domination sessions, I have enjoyed many roles including: Femmedomme (or Femdom), Dominatrix, Chastity Keyholder, Sadist, Mistress, Goddess, Mommy, Prison guard, Warden, Sensualist, Bondage Top, Foot Mistress, Medical Doctor, Medical Nurse, Domina, Enema Nurse, Nurturing Sadist, Neutral Disciplinarian, Sadistic Disciplinarian, Governess, Erotic Hypnotist, Mind Controlling Hypnosis Femme Fatale, Boss, Angry Wife, Backstabbing Co-Worker, Blackmailing Ex-Girlfriend, etc.
My Sessions are a Form of Therapy
I provide therapy, healing, and catharsis. I also create sensations, thrills, and endorphin-fueled experiences for a person to get lost in.
For each and every person, male, female, and transgendered alike, their experience varies depending on their session interests, fetishes, kinks and experience (or lack of), and the amount of time that they choose to devote to exploring these fetishes, kinks, and bdsm fantasies.
What Do I Want to Know About Your Fetish or Kink?
I want to know what your fantasy fetish or domination "DREAM SESSION" is. What pushes YOUR buttons and what are your psychological triggers? I want DETAILS. In this way, I not only listen to the KIND of feeling you would like to have but the WAY in which you have experienced it to get there. When I know this information, and if you are truly HONEST with me, the session will be ELEVATED to a level of euphoria.
I will give you an example. I saw a gentleman years ago, I knew him through the local bdsm  community. While I was chatting with him, I've made notes (like I always do) and then he said the ONE thing that set the context to the entire session. He said, "I want to be bound and terrified." I could elaborate on what I did exactly, but I'll save that for another time. Suffice it to say, he had NO idea WHAT was coming, WHEN it was coming, and that it was coming on so hard. Once he was in it, he was MINE, and I remembered the one thing he said. "I want to be bound and terrified..." These seven words were very important to me so when I speak with someone for the first time I listen to what they REALLY want.
LISTENING is quite different than HEARING. Have you ever talked to someone and wondered if they heard a word you said? It is the natural inclination for people's minds to wander. When listening to a seminar there are only so many minutes an audience can FULLY listen until they need to take a break and think about what they just heard. People are always thinking...I'm listening, writing, and circling in red. I'm looking for that unique phrase that will make the session a "DREAM SESSION".
I am Your Mistress, Dominatrix, & Therapist
Many have told me that I am not the typical Dominatrix or Mistress, because my expertise and interests cover such an expansive, and very wide range of fetishes and BDSM proclivities. The most important part of this combination is my being energy oriented. I can read a person's body perfectly. I thrive on connectivity. This is why, it is not always easy to schedule an appointment with me. People schedule anywhere from 1 hour to 3 days. When I am burnt, I shift and turn off. I will not return phone calls unless I am focused and up for it.  I take this work that I do VERY seriously, and the first connection is the most important.  I will not come in to do a session solely for the purpose of doing a session when a person wants to. It has to be right for both of us.
My Extensive Experience as a Domme & Highly Skilled Domina
Always consensual, I often ask myself during a domination session, "what do I need to do to create a bit of a tweak"? Is it a slight whiff of perfume, or is it my breast up against the warmth of the back after flogging, electrical stimulation, dirty talk, or knowing exactly what to do with my feet during a foot worship session? So many things to do at just the right moment.
I am a highly skilled & experienced Twin Cities Dominatrix, taking great pride in developing my skills and knowledge in all areas of my craft, and I continuously grow in my experience & expertise. I am a very experienced lifestyle pro domme bdsm & fetish Mistress, -meaning, I possess a lot of knowledge & ability, and take great pride in what I do. I have educated myself through countless seminars and self-education, and I live it on a daily basis. This is my lifestyle, and I have honed my craft and expertise for 21 years.
What Kind of a Dominatrix and Mistress Am I?
Some have referred to me as "Goddess", though I declare myself a Dominatrix or Mistress. This does not predispose me to being mean, although in the case of some women, you may think this is true. I would offer the concept of different kinds of Dominatrices. Which type suits you?
For example, a "Governess", is a Victorian type teacher who comes in to a private home to teach the children. Think, "The Sound Of Music", only the children can be children as with age regression (adult baby fetish or age regression fantasy), or the training of a submissive through a Governess.
Dominatrix: Hard core. Also referred to as a Femdom, Domme or Domina. She has many hats. One of them is to act quite uncaring and very neutral and aloof to her slave or submissive. She could care less and treats him so. She may objectify him by making him wear a tray to serve drinks to her friends, or she might strap an ashtray to his face so that he may be a portable ashtray, or just use his mouth as her ashtray.  She treats him like a second-class citizen, and loves punifying him to the worst degrees. She can be subtle, or she may be loud, barking out orders. She may slap his face, pull his hair, pinch his nipples until he bends to the ground on his knees. She humiliates & degrades him with such pleasure, and he loves every minute of it.
Sexy Vixen: Not quite the dominatrix or domina type, more like a mistress woman who is sexy and smells good, and every part of her you want to be near. She is a beautiful and striking sensual tease. You get into trouble not because you are being ordered around, but because her femininity and sensual nature brainwashes you and makes your brain cloud up and you do WHATEVER she says. She has used mind control leaving you are speechless and powerless over her feminine wiles. And that's just the way she likes it. You are brainwashed, hypnotized, mindfucked, and under her mind control.
Disciplinarian: The disciplinarian often helps in correcting behavior or for inflicting much needed punishment, such as otk spanking (over the knee spanking), flogging, whipping, paddling, or using a crop, switch, cat o' nine tails, etc.  Discipline sessions can be very specific, such as receiving an intense and painful spanking.
Then, there is the Sadist: She is a woman who enjoys inflicting pain on men. In fact, she will inflict pain on a man or woman. She receives much pleasure out of the experience, and quite a bit of power and control. She thrives on it. Although, not a true sadist, the difference being, a sadist needs permission to hurt someone but a true sadist does not. READ THE CONTEXT OF SAFETY BELOW.
Medical Play Fetish Nurse: The medical play fetish nurse is skilled in many forms of medical play scenarios that may involve special medical equipment, medical examinations, tests, procedures, infusions, catheterizations, enemas, experiments, and unorthodox situations that remind you that she is in control, and you are not. Depending on the situation, she just might "change" you. You better be good, and do as you're told.
My Context of Safety in Domination Sessions
All of my dominatrix sessions or fetish scenarios must be negotiated upon. Some people in the bdsm lifestyle do this with a new partner. Although this is just domination or fetish play, there are different kinds of contexts and negotiations for safety. Here are the most important.
SSC: Safe, Sane and Consensual. This means that when you play with this person, they are aware of your limits and boundaries, and will never step over that. There are safe words put in place, and the person who is dominating your bdsm / fetish session or scene, most ordinarily referred to as a Top, is educated, and aware. In addition, knows the basic steps of first aid and care, that goes into any session that might go a little South. (Or a lot south)
In terms of a domination session not going as planned. I can give you a few examples of this. Way back, many years ago, I met a dominatrix who was using the same Studio that I was. She confided in me that all of a sudden her client could not remember a whole lot. He did not know why he was there, and he didn't know how he got there. At the time I had no idea what this could possibly be, but now I do. He was an older gentleman and experienced a TIA, which is also known as a Trans Ischemic Attack. Basically a mini stroke. Would your Mistress know what to do?
Over the years, I have had occasions where people lose Consciousness or faint. Unfortunately, people don't always take care of themselves prior to visiting their dominatrix, mistress, or femdom for a domination session. Sometimes they skip meals, don't sleep, or some people have a drink or two before they come in to their domina for a session. I will NEVER play with a submissive or someone that I know is intoxicated, and 99% of people prefer to fully feel the rush of the endorphins from a session with me over a cocktail. 
I once had a man come in for a scheduled domination session with his Mistress (me), and as we were doing our bdsm corporal punishment session, he ends up passing out. I find out later, he didn't get much sleep the night before, and he had drinks the night before. It didn't take much to stress out his body for a fantasy fetish session that included some light to medium flogging. The entire time, I had the feeling that I needed to check on him, so I did. Each time he said he was fine. That was until he rolled his eyes up into his head and dropped to the floor. Would your mistress know what to do? Would she know what to check for and how to revive you?
There are times in domination sessions and fetish sessions when a mistress or domina is playing and working with body energy, anything can happen. The key is to know you're in safe hands, given the fact that if anything happens to you, and if your Mistress does not know what to do, your family could find out where you have been. Discretion doesn't always mean what you think it does. Experience, knowledge, safety, discretion, and wisdom are VERY important, and I possess ALL of these traits and MANY more.
INFORMED CONSENT or R.A.C.K. Risk Aware Consensual Kink means your Mistress explained to you the risk. When a young guy in his early 20's has an affinity for cbt & ballbusting, and to get his balls annihilated time and time again and over the course of many years, the responsible kind of Mistress will tell him what the risks are, and that he needs to think about it. Maybe she tells him she won't see him for 3 months, six months, a year. If you damage the ball sack and testicles among other things, it is possible that testicular torsion or becoming sterile is an outcome. Most men with a fetish will put their fetish desires & needs first, before anything else. When a person has a fetish or kink, they have a very strong desire to experience this fetish. They really can't help it.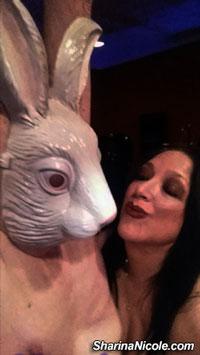 Sanity, To Many Fetishists, Is A Perceived Value
Let me glide into the term "sanity" here. What is "sane" really? To give you an "edge play" bdsm example, If I do a cbt testicular skewer, is that safe? More than that, is it "SANE"? Ask the edge play people the question, "What is sanity?" Ask a novice that same question, and you'll get a totally different answer.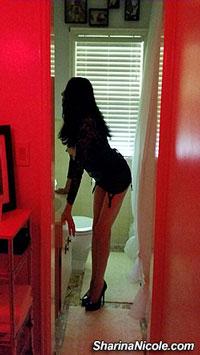 I am a Rare, Experienced, & Extraordinary Type of Mistress 
A dominatrix or mistress in a femdom domination session or domina fetish session involves something you love. It is a lot like a ride at an amusement park. Your partner doesn't want to go on the ride because they are scared to death, but you do. You are a thrill-seeker! So, you must shift your thinking. If you are a foot fetishist & love foot worship, and cannot get your wife to let you give her foot massages and kiss & lick her toes and love up her feet, a huge part of your sexuality is missing completely! A man with a fetish may love his wife, (and I've heard this from many men), and for whatever reason their partner cannot be talked into even the slightest bit of kink.
Some people have issues with abuse, sometimes there are triggers to the past, sometimes it is something they struggle with in their own selves that make it impossible for them to be loved like the Goddess they are. Plus, quite a few women are happy in the role of being a wife, the submissive, the caretaker, and they want their man to be the head of the household and they cannot see them as anything less. If a man wants to cross-dress, and dress up like a woman, some wives do not want to see this! It ruins everything that particular wife ever thought of her husband. She might wonder why he wants to do this, and where has his masculinity gone and is he gay. All kinds of things run through a wife, girlfriend, or significant other's mind, and she cannot firmly grasp the need to be either humiliated or be turned on while her fetishist boyfriend or kinky husband is wearing women's clothes.
It is my pleasure to use the countless dominatrix, mistress, & fetish medical play skills that I have learned over many years. I have enjoyed collecting equipment, wigs, makeup, lingerie and clothing in many different sizes for feminizing crossdressers or the forced feminization of sissies. I've collected bdsm implements, crops, whips, floggers, medical fetish equipment, countless bdsm & fetish devices, and I know how to get into a person's head, and I understand their bdsm or fetish they want & their kinky mind, as to where they really want to go and feel.
After all, bdsm bondage, domination sessions, forced feminization, foot fetish & worship, medical sessions, hypnotized mind control, sissy training, otk spanking, etc . . . these are ALL a therapeutic experience, and a healing experience. Maybe it's just a way to explode your kink or fetish for domination, but however you use it, you must do it with someone you can trust, and someone who knows the many intricacies and dynamics of these things.
You definitely do not want to session with someone who poses as a dominatrix and only sees you as a cash cow. There is a fetish place for that, (Financial Domination, FinDom). What I'm referring to specifically, is someone who over charges for the kinds of sessions they offer, has a lack of experience, knowledge, and expertise, and may or may not play safe or consensually, but of course will play with you anyway because they want to get the dollars, which means they don't really care about you.
Financial domination is something COMPLETELY different, and most Mistresses don't understand that anyway. 
Domination is NOT Prostitution