Dominatrix Mistress Sharina Nicole Mpls, MN
Minnesota's highest rated & reviewed Femdom Dominatrix Mistress
abdl - bdsm - bondage - cbt - corporal - crossdressing - erotic hypnosis - femdom - feminization, foot fetish - foot Goddess - forced fem - humiliation - latex rubber - medical sessions - role play - sissy training - spanking - tickle torture - trampling - more  
This web site is for ADULTS ONLY. Please exit this site if you are under the age of 18. All images, text and data on this web site are copyright SharinaNicole.com and their respective owners and are protected under international copyright law.  No copying, duplicating, distribution, publishing, downloading is permitted without first obtaining the written permission of the copyright holder(s). This web site contains material deemed to be of an adult nature, therefore by entering this web site you state that you are 18 years of age or older.
18 U.S.C 2257 Record-Keeping Requirements Compliance Statement
All models appearing on this site are 18 or older.
© 2017 SharinaNicole.com All rights reserved.
Mistress Sharina Nicole Visits Las Vegas
Mistress Sharina Nicole goes to Las Vegas!: Dominatrix & Foot Fetish Trample Queen Superstar Sharina Nicole in Las Vegas, Nevada!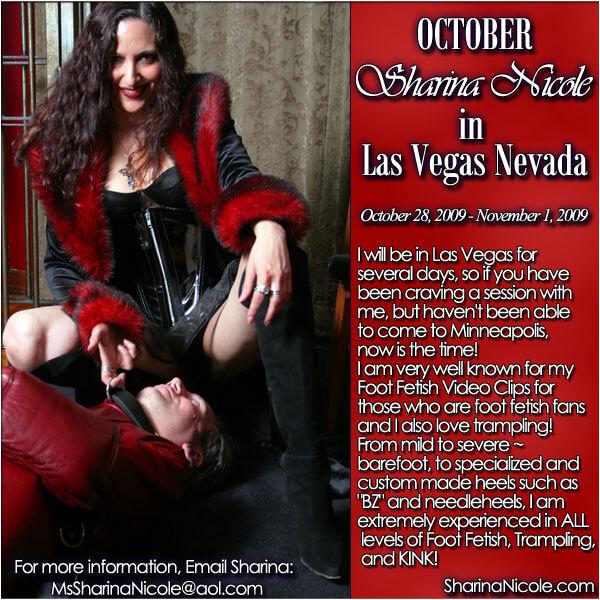 Mistress Sharina Nicole in Las Vegas, Nevada
October 28, 2009 - November 1, 2009

I will be in Las Vegas, Nevada for several days, so if you have been craving a foot fetish, trampling, or domination session with me, but haven't been able to come to Minneapolis, Minnesota, now is the time . . .
I am a Dominatrix Mistress that is very well-known for my Foot Fetish Videos & Clips for those who are foot fetish fans and if you also love trampling (maybe you've seen my Trampling Video Clips and Femdom Videos, even better! I am a Foot Fetish Femdom Trample Queen, From mild trampling to severe trampling and extreme trampling ~ barefoot trampling, to specialized and custom made trample heels such as "BZ" and needleheels (for a good needleheel trampling), I am extremely experienced in ALL levels of Foot Fetish, Trampling, and KINK!

Among other fetishes, I enjoy sensual and erotic to sadistic and strict BDSM Domination. Bondage, CBT, NT, strap-on training, cross dressing, electro-stim, ball crushing, ball busting, Corporal Punishment, role play, interrogation, golden showers, sounds, TENS, and mummification to name several that I may enjoy while away from my dungeon. I am limited in the types of equipment I will bring. If you have Q's about any of these types of fetish play, or don't see something listed, just ask. If you are interested in a session while I am in Las Vegas, Nevada a telephone interview will be necessary as well as a deposit to reserve session time.

I look forward to seeing you in LAS VEGAS, NEVADA!

If you happen to live in Las Vegas, Nevada and come to the Twin Cities on occassion, Come Visit my dungeon in Minneapolis, Minnesota!

Availability in Las Vegas, Nevada:
October 28, 2009 - November 1, 2009
What Happens in Las Vegas, Doesn't Always Stay in Las Vegas!
Las Vegas was dreamy and I met so many wonderful people! Strange that when I got there the weather was windy and cold, but by the time I left for home, it was bright, sunny and gorgeous! I am planning to make more trips to Las Vegas in the future...

It worked out wonderfully to schedule sessions there. Although my slave mike told me he could hear me whacking away at Professor Vanatter, (my wonderful and generous pain slut) as he walked by the room to get ice.

While in Vegas, I saw two shows. Since this wasn't my first visit to Las Vegas, I saw my very favorite Cirque Du Soleil show, Mystere' at Treasure Island!

The beautiful aerialists and amazing acrobats are so incredibly inspirational!

Kalamandu is my favorite musical piece and the aerialists floated and soared high above the audience in the middle of the auditorium.

The second show was another Cirque Du Soleil show called Zumanity. If I had to describe it to you, I would say that from the moment I walked into the theater, I was surrounded by sexy creatures male and female. There was this beautiful male creature with ripped abs clothed in soft cream colored lambs skin who gave me a sexy growl as I walked by him. He reminded me of the half horse/goat and half man known as a Satyr, a mythological creature noted for riotousness and lasciviousness. Sexy as hell.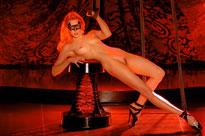 I remember a sexy redheaded woman in a see through latex skirt with garters. She pranced about the lobby coming towards me and as she passed I looked her over. Sexy as hell...are you detecting a theme here? This show was filled with humor and just like Mystere' was an amazing spectacle of acrobatics and aerialists. At one point there were two water nymphs who swam in a pool no bigger than a large martini class. They playfully swam around the bottom and emerged out of the pool pushing themselves up along the side in a hand stand balancing gracefully.




By the time I left the theater, I was energized and ready to play! Plus, I felt sexy as hell too...

Of course a woman's gotta eat, so along the way I visited the Forum Shops at Caesars Palace where I had a lovely lunch at Wolfgang Puck's Spagos. Another restaurant whose service was unsurpassed was Emeril's at the MGM Grand Hotel. Then there was the pizza at Il Fornaio at New York New York Hotel. Delish! And the aged steaks at Gallagher's Steakhouse looked beautifully prepared as I could see at my table, but I opted for the Jumbo Shrimp Cocktail and the Fresh Maine Lobster.

I did have one disappointing meal at the Cafe' Bellagio. Margie just couldn't pull it together with the customer service. The steaks were prepared poorly and were sent back. Somehow I thought that a hotel that cost 1.6 Billion to build with the utmost in attention to detail around every corner, especially the featured extraordinary glass sculpture, a three-dimensional chandelier called Fiori di Como priced at $5 Million, would hire people at all hours including capable chef and wait staff in the kitchen who would deliver service in excellence. Not at Cafe' Bellagio.

My slave mike treated his Mistress to an energizing loofa treatment and massage. I relaxed in the wet sauna and took a steam. Julie, my masseuse, stretched out my neck and joints and by the time I got out of the Spa, I was feeling quite steamy, I mean dreamy.

The fetish part of my visit consisted of a foot party hosted by a very nice South African rugby player named Steve. I began my evening by sitting on his chest and rubbing my feet all over his face. My feet had been in boots for sometime, and I needed a perch! I also did something that I had never done before. I placed my heel directly on Steve's nose and stood on it with all my weight! Steve has done this before many times, in fact some of his stories lead me to believe he is very resilient and tough! Steve was an awesome host. I brought my new DVD: Sharina Nicole's Kinky Foot Fetish Video Collection Volume 1! It was played on the screens in the lobby and lounge. The most popular parts of the video were of the latex smother hood...delicious foot sweat for foot fetishists extraordonaire. There were many nice gentleman at the party too and I had the pleasure of having my feet worshipped by most of them!

I was pretty busy all night enjoying foot massage, trampling, boot worship, high heel worship and multiple trample and smother. The foot models at the party were not only nice, but very sexy too! My slave had quite an enjoyable multi foot smother and trample! I enjoyed sharing him with the ladies and loved that he could take 2 or 3 on his chest and 1 or 2 on his face. We eventually put all of our feet all over his face at the same time. Can you say, "foot whore"? Thank you Steve for the most enjoyable foot fetish party ever!

There was a full day of perusing the strip and shopping all over Vegas. My slave gifted me with a very expensive ($360) burgundy Stuart Weitzman clutch purse. LOVELY! Years ago, I bought a Quasar Red Stuart Weitzman clutch purse that was just as expensive. I got it at Nordstrom. When I saw both, I fell in love with them! They do compliment my Judith Leiber belts. (another cherished part of my collection!)

Something I hadn't seen before was the Fremont Street Experience. It happened to be midnight, we grabbed a cocktail and went out on the street. This is old Las Vegas where it is literally daylight in the middle of the street with all of the casinos lit. What happens to gear the show up, is all of the lights go off and the multi-million dollar canopy that towers 90 feet above the ground and spans the length of five football fields fires up with light and sound. Featuring more than 12 million LED modules and 555,000-watt sound system, the light show is spectacular (This is the "Fire & Ice" show that we saw)!




The trip was a lovely break from being here where the weather was turning. But, it has been really nice to have a change in scenery and come home. I do think I will visit Las Vegas again and I am sure the sun will be shining just like it did when I visited!