Forced Sissification Feminization / Crossdressing Sissification Sessions / Sissy Training / Slut Training
Forced Sissification Feminization, Crossdressing, and forced feminization are fetishes that I have enjoyed and appreciated for a very long time.
I have always loved Crossdressing, Feminization & Sissification, and have all of the necessary equipment and expertise required to make the best crossdressing experience.
To give you a little background on me, when I was in my late teens, I had a boyfriend who liked to wear my bras. Obviously, that was many years ago, and it was my first experience with learning about crossdressing. Years later, when I was 22, I had a transgendered friend Vanessa who owned a limousine. She would invite me to drive with her to Las Vegas. What a fun time. I remember asking Vanessa why she liked me to go with her, and she said it was because she enjoyed being around me and she was learning to be more feminine.
I've had so many experiences that have shaped and contributed to who I am today as well as my areas of interest, understanding, and expertise.
I love helping others in revealing their feminine side in a MtF (male to female) feminization session, and take great pleasure and fun with feminizing and sissifying others. I have always  loved being a "Feminization Mistress" crossdressing and feminizing men, doing a forced feminization, roleplay, cosplay, transforming someone into my crossdressed sissy playtoy, sissygirl, or just providing a MtF crossdressed sissification & feminization experience.
All of the crossdressing & feminization clothes, hair, makeup, bras, panties, corsets, breast forms, lingerie, petticoats, dresses, shoes, boots, perfume and more are all from my personal collection that I use for sessions. My collection spans many different sizes to suit & fit most everyone.
Over many years, I have carefully, selectively, and painstakingly built my very extensive crossdressing & feminization collection of sexy and feminine clothing, under garments, breast forms, wigs, makeup, lingerie, high heels, and stockings in MANY different sizes to accommodate the many different sizes and shapes whether men, sissies, or transgendered for feminizing.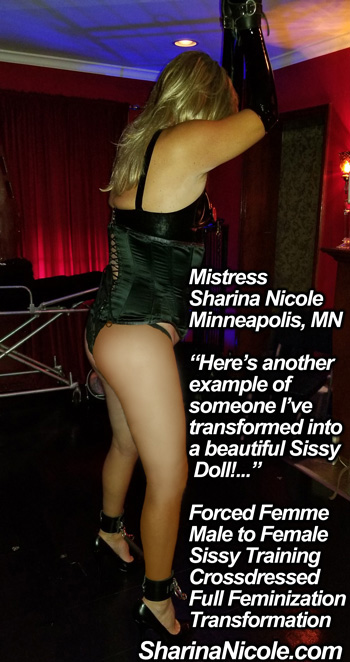 Having a sissification & feminization service for crossdressers requires a vast collection. I love having a very large and very extensive (albeit vast assortment) of sexy lingerie, corsets, bras, garters, panties, stockings, dresses, skirts, outfits, hair, makeup, perfumes, shoes, boots, high heels, and more in MANY sizes to fit many different shapes and sizes of bodies! It is a personal collection that I take great pride in, and it is ALWAYS growing! Crossdressing & feminization sessions are something that I have always enjoyed very much, and I look forward to crossdressing & transforming you as your Transformation Mistress!
-M Sharina Nicole
Feminization Dominatrix
 
Dollification Sessions
Dollification is the process of evolving mentally and physically into Mistress' "play thing". You become my "living doll". I teach you how to walk, talk, and dress femme like a beautiful, sexy, feminine doll. I direct all of your thoughts, and your mind is useless. I know that some of you would LOVE to be my living doll!
Male to Female Transformation & Sissification Feminization
Many years ago, I was a licensed esthetician in the state of California! I worked at the Aurelia Adrian Institute De Beaute in Beverly Hills, California.
As you might guess, I love being able to use my experience & knowledge coupled with crossdressing & feminization to beautify & feminize all of my crossdressers.
Crossdressing & Forced Sissification Feminization Sessions may include (but are not limited to) the following:

Hair removal (Shaving, waxing, tweezing)
Face (Makeup, Brows, Lashes, Lips)
Eyebrow shaping
Hair / Wig Selection (Do blondes really have more fun? Are redheads naughty & Wild? Be the girl you are inside)
Underarm
Bikini Shaving
Legs Shaving
Full Hair, Makeup, Breast Forms, Lingerie, Clothes, & Heels to fully transform you!
Full Feminization and Transformation (shaving / waxing)
Corsetry
Fingernail & toe polish
Parafin Wax treatment
Makeup Application & removal
Photo Session
High Heel Training
How to Walk in Heels
Dollification Session: I crossdress, feminize, and transform you into my beautiful living doll & do with you as I wish
Feminization Session: You are feminized and transformed (MtF) from your maleness into my feminine beauty
Forced Feminization Services: I crossdress & transform you as I wish, and feminize you how I want. You are not in control.
Forced Sissification: I force you into being my crossdressed, feminized sissy, and you will do as I say, and do as sissies do.
Sissification Service: I help you sissify yourself into the beautiful sissy within you that you have always wanted to be.
Sissy Training: I train and teach you to be a good sissy, and be the best sissygirl that you can be!
Sissy Hypno Training: I get into your head and hypnotize you to be trained as a sissy.
Sissy Maid Training: I train you into my sissy maid and you WILL be a good sissy maid!
Sissy Slut Training: You will be trained to be a good and skilled sissy slut to do as sissy sluts do.
Slut Training: You may be already a sissy inside, and need a little training to go a step further you naughty, naughty, girl.

Forced Womanhood Session: Incorporates an immersive feminization session or forced feminization session, hair, makeup, clothing, breasts, transformation, combined with training and feminine mental programming.

NOTE: The Forced Womanhood Session, is a multiple hour immersive experience for those that are ready for forced womanhood, female programming, and exploring an immersive multiple hour womanhood session.