Dominatrix Mistress Sharina Nicole Mpls, MN
Minnesota's highest rated & reviewed Femdom Dominatrix Mistress
abdl - bdsm - bondage - cbt - corporal - crossdressing - erotic hypnosis - femdom - feminization, foot fetish - foot Goddess - forced fem - humiliation - latex rubber - medical sessions - role play - sissy training - spanking - tickle torture - trampling - more  
This web site is for ADULTS ONLY. Please exit this site if you are under the age of 18. All images, text and data on this web site are copyright SharinaNicole.com and their respective owners and are protected under international copyright law.  No copying, duplicating, distribution, publishing, downloading is permitted without first obtaining the written permission of the copyright holder(s). This web site contains material deemed to be of an adult nature, therefore by entering this web site you state that you are 18 years of age or older.
18 U.S.C 2257 Record-Keeping Requirements Compliance Statement
All models appearing on this site are 18 or older.
© 2017 SharinaNicole.com All rights reserved.
Crossdresser Sessions: Crossdressing Sessions & Forced Feminization Sissification
Crossdresser / Forced Feminization Sissification / Crossdressing Sissification Sessions / Sissy Training / Slut Training
Beautiful Minnesota Crossdressers & T-Girls Living Out Their Fantasy in Real-Time Crossdressing & Feminization Sessions in Minneapolis

CrossDressing, Sissy Play, Forced Feminization, Sissification, feminization roleplay, and / or consensual forced male feminization are fetish sessions that I have enjoyed and appreciated for a very long time. Many crossdressers never get to fully fulfill their dreams of cross dressing feminization, being fully transformed into a woman completely unrecognizable from their male self, or looking so beautiful while crossdressed.
On this page, you can see many beautiful cross dressing pics of people I've transformed to their gorgeous inner feminine alter-ego. They visit me from Minnesota, Wisconsin, Illinois, Iowa, the Midwest, and all over the U.S. (some from over a  thousand miles away) that have chosen me, to help them on their crossdressing, feminization, and sissy play journey exploring their feminine alter-ego. You would NEVER recognize these beautiful feminized cross dressers & sissies in real life as they normally appear.
I've completely transformed them into their beautiful feminine and gorgeous crossdresser & sissy selves.
I've introduced and helped many wanna be crossdressers who wanted to explore as well as, new, intermediate, & experienced  male crossdressers realize their fantasy of discovering or further exploring their beautiful & feminine alter ego self. In addition, I've helped others delve deeper into their feminine gender identity to explore their female self.
I enjoy crossdressing & transforming male crossdressers & helping transgenders realize their male to female dreams -whether their dream is to be crossdressed, feminized into the beautiful female that they are inside, transformed as I wish into a female version of themselves, or sissified into a sexy femdoll. Sissification and sissy training is something else, and can be, dare I say it...slutty.
There are many different elements of dressing for pleasure. Let's find yours ♥️
Minneapolis' CrossDressing Me to She, Feminization Cross Dressing Femme Service
I have always loved male Crossdressing, male to female Feminization & the Sissification of men. In my crossdressing & feminization studio, I have many years of expertise, as well as all of the necessary equipment, makeup, feminine lingerie, sexy female clothing, sexy women's shoes, beautiful feminine wigs, and more to help you and other Minneapolis male crossdressers and transgender have the best crossdressing experience or feminine transformation experience. For that matter, I enjoy helping male crossrdessers from everywhere as long as they fly to me.
When & How I Learned About Crossdressing
To give you a little background on me, when I was in my late teens (long before moving to Minneapolis, Minnesota), I had a boyfriend who liked to wear my bras. At that time, he was into light crossdressing, and not forced male to female feminization or sissification. Obviously, that was many years ago, and it was my first experience with learning about crossdressing. Years later, when I was 22, I had a male to female transgendered friend Vanessa, who owned a limousine (no, Vanessa wasn't a Las Vegas Dominatrix). She would invite me to drive with her to Las Vegas, Nevada. What a fun time we had. I remember asking Vanessa why she liked me to go with her, and she said it was because she enjoyed being around me and she was learning to be more feminine in her sexual identity as a woman. Many years later, I helped my dear friend Patris as her identity of her female self blossomed and transformed.
Obviously Male Crossdressing and being Transgender are two completely different things. Many crossdressers are very happy and at home in their role and gender as masculine men, they just enjoy exploring their feminine side or for some, simply the feel and look of being in womens clothing (and not male clothes) is a turn-on or gives them sexual arousal (and no, men dressing in clothes of the opposite sex is not a big deal, does not mean you have gender dysphoria, nor does not make you gay or confused). For some, it might even feel like being a male actor playing a totally different character as a sexy performance art.
That said, the beautification and transforming of the male image and likeness, to a female likeness and feminine image (or visual transformation), can have their similarities.
I've had so many experiences that have shaped and contributed to who I am today as well as my areas of interest, understanding, and expertise, and male to female crossdressing & the feminizing and transforming of men is one of them.
Transforming You to Reveal Your Feminine Female Side
I love crossdressing and transforming male crossdressers as they visually temporarily transform their gender from male to female in revealing their feminine side in a M2F / MtF (male to female) feminization session, and take great pleasure and fun with feminizing and sissifying men. I have always loved being a "Feminization Mistress" crossdressing men and feminizing men, doing a male to female forced feminization roleplay, sissification cosplay, transforming a man into my crossdressed sissy playtoy, sissygirl, or just providing a M2F / MtF crossdressed sissification & feminization experience they'll never forget.
Transforming & Feminizing Crossdressers, Men, Trans, and Sissies
All of the crossdressing & feminization clothes, feminine fashions, hair, makeup, bras, panties, corsets, breast forms, lingerie, petticoats, dresses, shoes, boots, perfume and more, are all from my personal collection that I use for crossdressing sessions. My collection spans many different sizes & styles to suit & fit most everyone in lingerie, clothing, and shoes.  I take great pride in the cleaning, care, and the quality of items that I choose.
Over many years, I have carefully, selectively, and painstakingly built my very extensive crossdressing & feminization collection of sexy and feminine clothing, under garments, breast forms, wigs, makeup, lingerie, high heels, and stockings in MANY different sizes to accommodate and crossdress in sessions the many different sizes and shapes of people whether men, sissies, or transgendered for feminizing.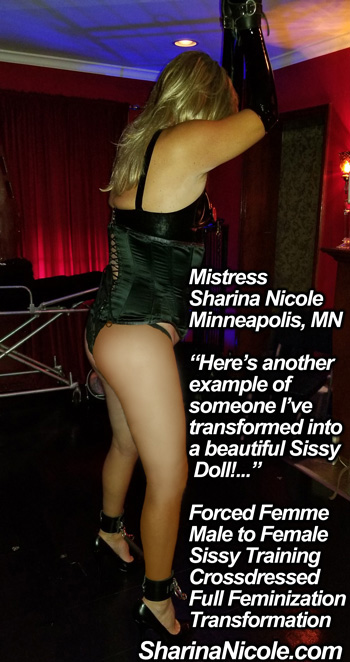 My Exquisite & Extensive Feminization Collection That I use to Transform & Feminize Men, Trans, & Sissies
Having sissification sessions & a feminization service for crossdresser sessions requires a vast collection. I love having a very large and very extensive (albeit vast assortment) of sexy lingerie, corsets, feminization bras, garters, panties, stockings, dresses, skirts, outfits, fem hair, wigs, makeup, perfumes, shoes, boots, high heels, and more in MANY sizes to fit many different shapes and sizes of bodies! It is a personal collection that I take great pride in, and it is ALWAYS growing! Crossdressing sessions & feminization sessions are something that I have always enjoyed very much, and I look forward to crossdressing & transforming you in a session as your "me to she" Transformation Mistress!
-M Sharina Nicole
Feminization Mistress

Dollification Sessions
Dollification is the process of evolving mentally and physically into Mistress' "play thing". You become my "living doll". I teach you how to walk, talk, and dress femme like a beautiful, sexy, feminine doll. I direct all of your thoughts, and your mind is useless. I know that some of you would LOVE to be my living doll!
Male to Female Transformation & Sissification Feminization Sessions

Full Crossdressing Feminization Makeover Service Sessions
Male to Female Feminization & Beautification
Many years ago, I was a licensed esthetician in the state of California! I worked at the Aurelia Adrian Institute De Beaute in Beverly Hills, California.
As you might guess, I love being able to use my experience & knowledge coupled with crossdressing & feminization to beautify & feminize all of my crossdressers.
Crossdressing & Forced Sissification Feminization Sessions
may include (but are not limited to) the following:

Hair removal (Shaving, waxing, tweezing)
Face (Makeup, Brows, Lashes, Lips)
Eyebrow shaping
Hair / Wig Selection (Do blondes really have more fun? Are redheads naughty & Wild? Be the girl you are inside)
Underarm
Bikini Shaving
Legs Shaving
Full Hair, Makeup, Breast Forms, Lingerie, Clothes, & Heels to fully transform you!
Full Feminization and Transformation (shaving / waxing)
Corsetry
Fingernail & toe polish
Parafin Wax treatment
Makeup Application & removal
Photo Session
High Heel Training
How to Walk in Heels
Dollification Session:
I crossdress, feminize, and transform you into my beautiful living doll & do with you as I wish.
Feminization Session:
You are feminized and transformed (MtF) from your maleness into my feminine beauty
Forced Crossdressing Hypnosis:
I crossdress you and hypnotise you. Your doll-like mind is under my control.
Forced Feminization:
I crossdress & transform you as I wish, and feminize you how I want. You are not in control.
Forced Sissification:
I force you into being my crossdressed, feminized sissy, and you will do as I say, and do as sissies do.
Feminization Transformation:
You are completely transformed from a male to a female version of yourself as I see you. Naughty Girl.

Sissification Service Sessions:
I help you become sissified into the beautiful sissy within you that you have always wanted to be. Imagine how different it feels as your new sissy self.
Sissy Play / Sissy Training Sessions:
I train and teach you to be a good sissy, and be the best sissygirl that you can be! Much like a sissy finishing school.
Sissy Bimbo Training & Mental Programming Sessions:
This session includes feminization combined with mental programming & bimbo behavior modification. You will be transformed into a maleable objectified bimbo. You will be easily controlled & influenced as a feminized sissy bimbo.
Sissy Hypno Training Sessions:
I get into your head and hypnotize you to be trained as a sissy.
Sissy Maid Training Sessions:
I train you into my sissy maid and you WILL be a good sissy maid! This may include serving tea, and other refinements and tasks that all good sissy maids are trained to perform.
Sissy Slut Training Sessions:
You will be trained to be a good and skilled sissy slut to do as sissy sluts do.
Slut Training Sessions:
You may be already a sissy inside, and need a little training to go a step further you naughty, naughty, girl.


Forced Womanhood Sessions (& Helpful Q & A - below):
Incorporates an immersive feminization session or forced feminization session, hair, makeup, clothing, breasts, transformation, combined with training and feminine mental programming.
NOTE: The Forced Womanhood Session, is a multiple hour immersive experience for those that are ready for forced womanhood, female programming, and exploring an immersive multiple hour womanhood session.
Below, you will find answers to questions that others have asked regarding my "Forced Womanhood" sessions.

To Begin:
I've been studying the different degrees of womanhood through the bodies of my male counterparts for longer than 26 years. One thing I see is a curiosity that goes far beyond the usual naughty panties, and more of a sincere desire to experience female-ness on a much deeper level.

I'm  answering some of these most asked questions so you'll be prepared when we discuss a specialized experience for you, this will help in giving you a reference point from which to operate from, which will be different from what you know now.
Forced Womanhood Sessions Helpful Q and A.
Q. A "Forced Womanhood Session." What does this mean exactly? Why "forced?"

A. When I conduct these kinds of sessions, you turn yourself over to me. You aren't held against your will, you aren't double crossed. "Forced" means you turn yourself over to me, and once you do, I decide what is best (within your limits) and you have no responsibility to it. You are free to say, "Well, this is what my Mistress wants." No guilt, only freedom that what you're doing is because your Mistress wants it this way


Q. I've never done this before. How will I know what to do?

A. You will not need to know what to do. All you need is a desire to explore the female side of your self and I will do the rest. It is a unique experience, even if your only desire is to understand women.

Q. I've been crossdressing all my life. If I enter into a Forced Womanhood Session, what does this mean exactly? Why is it different?

A. It is different because I am guiding you to the next level. All of the processes that take place are designed to stimulate the female-ness in you. If all you've done is dress a little with a bra here, panties under your jeans, an occasional leisurely evening fully dressed with a glass of wine in hand, then this experience will bring you closer to your feminine side. You will choose the degree of femininity and what being a woman is truly like, whether temporary, or looking forward to something more permanent.

Q. I have "purged" all of my clothing can I still come in for a session?

A. I have an assortment of EVERYTHING to make you a sexy and pretty woman. I even have a jewelry armoire and an assortment of high quality perfumes to enjoy.

Besides, everyone goes through a purging when they decide to "fly right" and when they realize this is something which will never leave and is part of who they are, they accept it.

Q. Can you help me safely explore  or discover my female feminine side?

A. Yes. You will leave my studio just as you arrived, in secret and anonymously. Everything I do with a person is SAFE, SANE and CONSENSUAL. I adhere strictly to your personal limits at all times.

Q. How long is this type of session?

A. It depends on how immersed you would like to be. A minimum of 2 hours is necessary for a full feminization session. This would include being made up, dressed and prepared for play. Often times I've suggested a roleplay theme.

Here are some examples of roleplay:
*You arrive having been picked to do a gender study on male to female transformation and subject yourself to testing and training.

*You will be serving at a kinky party and need to be trained for use.


*Clinic for the HRT (Hormone Replacemenr Therapy) and SRS (Sexual Reassignment Surgery) taken to a deeper level in noninvasive ways.

2 hours minimum with the opportunity to have a full day to multi day experience.

Q. Why do you like Forced Womanhood Sessions in so much?

A. When I was little I loved my dolls. I graduated to my Barbie Dolls which I dressed and posed and had dinner in a pot until the carrot got moldy...But the dresses! I loved the dresses so much, and I loved changing their outfits. So, you are my male to female Barbie Doll. There are so many things I love doing to you when you visit me and become transformed & feminized.

Q. My body is rough and hairy, and my face is too. How on earth could I ever experience a session like this?

A. I have MANY methods of getting around this consideration whether you have hair and want to get rid of it OR you have to keep your hair so as not to have to explain why you don't have hair anymore. I also have methods by which to coach you in order to make it seem to your partner, that having less hair makes sense.

Q. What if THE ONLY REASON I want to experience this is so I may understand women better?

A. Bravo! I call it "Male Sensitivity Training."
Do you know what it's like to ovulate? Have "middleschmertz" or menstruate? How about pregnancy or birth? You'll have a better idea, but only if you choose this as part of your understanding the female side of things.

Q. I'd like to start slow.  How do I do this?

A. I offer "continuum" sessions where each session is just a little bit more varied, involved, or advanced than your first session. You may choose the frequency and we co-create the end game, if there is one. Rome wasn't built in a day... I can help you in your Feminization journey into womanhood, going further each time.

Q. Are you equipped to provide this kind of session for a full day or multiple days?

A. Yes. I have a wonderful studio which I love utilising all my rooms. But mostly my medical/salon room is spectacular for skin care treatments, facials, waxing, shaving and grooming procedures. I have a new Feminization Room that has been updated to GLAMOROUS BOUDOIR, which I now call The "Red Femme Room. The colors  have a stately quality and exude "sexy classy."

So, yes...I definitely do!

Q. Can I do a photo shoot like a model?

A. Absolutely! Sweet, to conservative to the divinely perverted.

To schedule a session, or if you have further questions,  email me at:
This email address is being protected from spambots. You need JavaScript enabled to view it.

I look forward to your exploratory transformation into feminization..

M Sharina