My Fetish Studio Equipment
When inquiring about a session in my dungeon studio, if you have any predilection towards any particular type of play, ask your dominant if they may have what you are interested in. In addition to what the dominant has, these items in My Minneapolis Dungeon Femme Fatale are also available for your experience.
Corporal Punishment Room
Oversized Bondage Table
Heavy Steel (MR S Fetters) Stand-up Cage with 4 LOCKING doors
Cage on wheels (1 person)
Spreader Bar(s)
Suspension System for Inversion
Suspension Bars
SYBIAN with (ALL Asst'd sizes, separate and double, etc)
Hydraulic Birthing Chair
Bondage Chair
Smother Box
Ambulance Gurney
Trample Board/table
Rope
Latex Arm Binder cuffs
Leather Arm Binder cuffs
Suspension Boots
Heavy Chain Weights
2 pr Hiatt Old Pattern wrist cuffs (inescapable and comfortable)
Bondage table
The Panic Room
St. Andrew's Cross
Inversion table
Heavy Steel (MR S Fetters) Large Puppy Cage (3 Person)
Removable Futon
Mirrors
Stereo System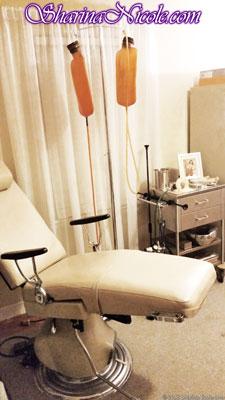 Medical Asylum
Medical OB-GYN Table (wide and padded)
Reclining Dental Chair
Gas Masks
Leather Arm Restraints/Binders/Suspension cuffs
Silicone/Glass/Rubber Dildos
Vibrating Plugs/Eggs
Hegar/Pratt Sounds
Vibrating Sound
Hot Waxing Pot
Nerve wheels/sensory tools
Forceps clamps/hemostats
Chinese Cupping Set with Assorted Sizes
Anal Retractor
Laryngoscope
Oxygen and Masks
Single Dose Enema Kits
Catheters
Foley Catheters
Texas Catheters (S, M, L)
Drainage Bags
Sodium Chloride Solution for Scrotal Infusion (5ml, 10ml)
Retractable Needle Catheters
Needles (from 27g to 18g) Spinal Needles (3 inch, 25g)
3 TENS Units
Cauterizing Tool
Scalpels
IV Stands and Mayo Stands
Bladder Irrigation
Large Stainless Steel Syringes
Anal Scopes (2 part long and short)
Ace Bandages (Large)
Veterinary Wrap
Piss Funnel Head Harness


Crossdresser CD TS TV Transformation T-Gurl Room (with makeup, wigs, lingerie, heels, and full wardrobe)
This room contains a wide variety of female clothing in various sizes to assist your transformation whether it be a femme fatale, a very naughty crossdresser sissy girl, or whatever your Mistress wants to make you be! Most of my lingerie, I acquired form VICTORIA'S SECRET, various Fine Lingerie Stores or Fetish Stores in Europe and abroad.

I take great pride in my fabulous growing collection, and have many sizes available.

Sparkle dresses and Evening wear
White Wedding Dress
Maid's Uniforms in assorted sizes (one pink, 3 black and white with lace)
Assorted colored Petticoats
Sissy Maids with Aprons in assorted colors
Sissy Dresses in assorted colors
Pantaloons
Feather Boa's
Fabric Corsets
Demask Leather Corset
Thigh High Boots
Platform heels
Pumps
Bras
Panties
Stockings (stay-up and gartered in black, flesh, sparkle, white and colors)
Garters
Garter skirts
Waist Cinchers
Make-up/perfumed powder
Silicone Breast Forms (small, medium, and large)
Skirts (short, long) and Pants
Maid's Uniform
Petticoats
Lingerie
Lots of Wigs 35 in all! (styles are short, curly long, straight bangs, up do, flip, etc.)
Gloves
Coats
Negligées
Necklace/bracelet
Chair
TV VHS and CD Player
Trans Porn
Fetish Porn (some with the lovely Mistress Jean Bardot)
Vanity Table with large circular mirror
Bed for tying up or posing


Of course there is a bathroom available for you to use, complete with a tub for showers or golden showers. I may run a bath for you to help with grounding after an arduous session and there are soft drinks and water in the kitchen.
Sharina Nicole Equipment
I have acquired some very nice equipment that I use exclusively and have listed it below.

Versatile Fashions Spandex body bag.

I have a beautiful Mr. S Fetters burgundy Leather Straight Jacket with tit flaps, and padding in the arms for those overnight sessions in the cage or to be strapped down to the bondage table or birthing chair.

I have a wonderful assortment of Erostek electrostim equipment that includes: butt plugs, anal toys, cock head stimulator, electrical urethral probe, electrical tit clamps, insertable vaginal electrical probe, electro-bands and a cock board. All of these items can be used with my Erostek power box or my Erostek remote control unit.

For anal and enema play, I have a Classic transparent 6 Quart Colon Cleansing Enema Bag with Assorted Nozzles

In facilitating an out of body experience through sensory deprivation, I have the Nova Pro 100. Through light and sound, this device can be used for relaxation and meditation. When used in conjunction with bondage and/or electrical play, the light glasses and headphones transport you into other mental realms. I use these for regular to extended sessions.

The latex vac bed can be used in conjunction with the Erostek remote. While you are being sucked into the bed in latex bondage, you can also feel the pulse of electricity running through you...and any other sensorial experiences I choose to inflict upon you while you are being sucked in.

I also have some wonderful leather hoods from Mr. S Fetters. The Bishop Head Harness is more an open hood that can include a blindfold and gag, or the hood can remain open. It is less constricting and keeps the head cooler than other full encompassing leather hoods. The All-Round Zip hood has an open mouth with perforated eyes. The front of the hood zips shut, while the back of the hood is laced as well as zipped. The smell of the leather coupled with silence and utter darkness is quite severe yet calming.

The Violet Wand has an assortment of glass cylinders such as the rake, mushroom and probe. It also contains the body contact device that will electrify my fingers so I may use it to conduct the electricity myself. This is a brand new unit that Mr. S Fetters is offering and it is top of the line in violet wand kits.

My corporal punishment equipment includes: deer, elk, buffalo, and latex floggers, braided cat o'nine tails, assorted acrylic. rubber and rattan canes, riding crops, wood and leather paddles, Jack in the pulpit, leather straps, single tail and buggy whip.

My heel collection is very extensive and I have over 70 pairs of heels stored at DFF. From sandals to pumps, platforms, BZ heels, and needle heels with different heel severity. I also have about 10 pairs of boots ranging from ankle to knee to thigh high. These boots are platform, regular heel, patent leather, PVC or latex.

With The Curve chastity, you will not be allowed to have an erection, especially since it is designed to fit snug and locked into place.

I also have a wide variety of nipple clips, and CBT harnesses, rings and parachutes.

Normally used for methods of healing, I have a Chinese Cupping set that is used for suction on all parts of the body.

My fetish wardrobe consists of latex, leather and PVC. I love corsets, waist cinchers, cat suits, latex dresses, business and nurse attire. I get my clothing from Demask, Skin Two, Lip Service, The Federation. Madame S, Versatile Fashions, Victoria's Secret, Catherine Coatney, Stormy Leather, Murray and Vern. I have enjoyed shopping in fetish stores located in Los Angeles, San Francisco, Amsterdam and London.

Equipment in My dungeon is cleaned and sterilized. I use alcohol and bleach solutions, antibacterial soap, and a Broad Spectrum Quaternary Disinfectant cleaner that KILLS ALL GERMS including HIV. I use the only Quaternary disinfectant that is registered to kill representatives of all ESKAPE pathogens (including: MRSA, HIV, TB, VRE, Hepatitis B and C, and more), which cause two-thirds of all HAIs.
I do believe that cleanliness is next to Godliness and much care is taken prophylactically to ensure that you are safe from microbes and bacterium. Very clean means very safe!