Dominatrix Mistress Sharina Nicole Mpls, MN
Minnesota's highest rated & reviewed Femdom Dominatrix Mistress
abdl - bdsm - bondage - cbt - corporal - crossdressing - erotic hypnosis - femdom - feminization, foot fetish - foot Goddess - forced fem - humiliation - latex rubber - medical sessions - role play - sissy training - spanking - tickle torture - trampling - more  
This web site is for ADULTS ONLY. Please exit this site if you are under the age of 18. All images, text and data on this web site are copyright SharinaNicole.com and their respective owners and are protected under international copyright law.  No copying, duplicating, distribution, publishing, downloading is permitted without first obtaining the written permission of the copyright holder(s). This web site contains material deemed to be of an adult nature, therefore by entering this web site you state that you are 18 years of age or older.
18 U.S.C 2257 Record-Keeping Requirements Compliance Statement
All models appearing on this site are 18 or older.
© 2017 SharinaNicole.com All rights reserved.
Midwest Fetish Spring Sting with Femdom Mistress Sharina
I had the supreme pleasure of attending the MidWest Fetish Spring Sting BDSM convention last month and I must tell you...it was a blast! MidWest Fetish (former website was midwestfetish.com) Although quite small, I would have to say that we were all lucky to be part of the intimacy that a smaller gathering created.
Femdom Mistress Sharina Nicole ponyplay fetish riding Mistress Amanda Wildefyre 's Charger Pony at the Midwest Fetish Spring Sting 2002 BDSM convention in Moundsview, Minnesota

Friday evening included a lovely cocktail hour with dinner to follow. We sat in huge tables of 10 where conversations of kink evolved. Access to a huge room filled with very nice quality dungeon furniture ignited sparks of play after dinner. Fetish Diva Midori displayed her craft at Japanese rope bondage while I slowly became hypnotized and aroused. I was completely mesmerized by the way she took a male body and slowly used her expertise in Japanese rope bondage to tie him while he stood until he was literally off his feet in what appeared to be a type of sling. She then slowly brought him down and back onto his feet and flogged his backside...This was very erotic to say the least. My observation of her was that her energy was grounded in the present moment at all times. Light, focused, sensual, connected, methodical and quite trance-like.
Mistress Amanda Wildefyre watched as I rode her Charger Pony at the Midwest Fetish Spring Sting 2002 BDSM convention in Moundsview, Minnesota

Mistress Amanda Wildefyre came into the room. I must describe her to you if you have never had the pleasure of seeing her in person (...and please read my March 13, 2003 Bizarre Life Diary Page) She is quite elegant, tall in stature, and graced with very beautiful skin. Feminine and quite beautiful she has a commanding presence where you would be hard pressed not to notice her walking into the room. Her lips are pretty, painted or not, and her eyes are powerful, yet playful. Her hourglass figure stands poised as she glides across the room. One can't help but stare...
Mistress Amanda Wildefyre striking a pose with yours truly (Mistress Sharina Nicole) and Charger Pony at the Midwest Fetish Spring Sting 2002 BDSM convention in Moundsview, Minnesota

Her commanding presence brought much curiosity as she lead her "Birthday Treat" into the room. Lady Diane has been very loyal to Mistress Amanda Wildefyre throughout the years and was celebrating her birthday and it just happened to be the first day of the event. Diane was dressed in a white latex hood with a pony tail coming out of the top and a cute pink ensemble...Lady Diane usually wears pink. She always seems to look quite pensive with that school girl touch of innocence. Amanda placed her birthday subject in an arm binder and tied her up like a spider web into the whipping frame. I was asked to come over and help warm up the bottom of this innocent little birthday girl...and I was all to happy to lend a hand. I will say this about Diane, she IS one of the best bodies in the Universe to play with. Her body yields to many forms of torture, even torture she doesn't like. I would like to add that here was another component to Amanda's repertoire and that was Mistress Amanda Wildefyre's slave k. At one point, Amanda was looking for something to tie Lady Diane's pony tail to, so I suggested she tie it to slave k..."Wonderful idea!" so she had slave k lie on the floor (which wasn't such an easy task to do since her wrists were locked to her waist.) But Amanda effortlessly helped slave k to the floor and posed her the way she wanted her to be, and whallah! Lady Diane was anchored to slave k... Returning Di back to the standing position, we took turns flogging Di and sandwiching her between us...She must have melted in between our bodies. I could have sworn I saw little pink droplets of sweat beaded up on the floor...
Mistress Amanda Wildefyre striking a pose with Charger Pony at the Midwest Fetish Spring Sting 2002 BDSM convention in Moundsview, Minnesota

Saturday was quite amusing especially for me. For one, Amanda Wildefyre gave a workshop on one of my all time favorite subjects, CBT. (cock and ball torment/torture) The two hours went by extremely fast and the workshop could have easily gone on another 2 hours. I have seen Amanda do things to people that have completely amazed me. To me, she is reminiscent of a beautiful mad scientist...the only thing lacking are the bubbly apothecary jars and Igor thumping around the dungeon asking, "Yeth Mithdresssss?" I have yet to walk away from one of her sessions or demonstrations and not be completely in awe of her keen abilities and creativity in the art of torture. Her attitude is one of..."Of course it can be done!" and there isn't anything I haven't see her do that she has put her mind to. She is truly amazing.

Another reason for my amusement was a workshop on flogging given by Fetish Diva Midori. FetishDiva.com The workshop was to explore the unique perspective of how one can learn the art of wielding a flogger to become an instrument of pleasure. I didn't know that I was in for such a treat.

Midori is an incredible woman who exudes an integral connection with those she chooses to engage. As a matter of fact, you will find yourself being engaged by her merely by observing her. During her workshop, she demonstrated several different ways of using a flogger and how to implement each technique. She then politely asked if there was anyone who would like to receive a flogging from her...That question caught me off guard. Ever have one of those out of body experiences you don't quite remember the details to? Well, that happened to me. Not only did I raise my hand, but I started waving it in the air. I had absolutely NO reservations about turning my body over to her completely. She comes from a place of trust and integrity which cast off any reservations I could have possibly had. (My slave was sitting next to me and although he had observed me administering many floggings of my own, had never seen me be at the receiving end of one.)

First, Midori demonstrated the negotiations of a scene for those who weren't familiar with proper Safe, Sane and Consensual guidelines and from there she proceeded to the flogging demonstration.

I must confess, I was thoroughly taken by surprise by this beautiful and very skilled woman. Midori did to me in 10 minutes what has taken others 3 to 5 times the amount of time and flogging to achieve. She has a magic touch.

I pinned my hair up and placed my hands on the bars in front of me with my back to her as instructed. She began by lightly stroking my body with the flogger tails. I could feel the tails stroke gently on my bottom and back. I could feel her behind me as I felt the first time she would stand closely to me and wrap her arm around my waist. She then progressed to one of the strokes she demonstrated during the workshop, but I could only feel what she was doing as I chose to close my eyes during the demonstration. I mean, here I was giving myself over to this quasi siren of sorts who was so obviously (to me) gifted in skill. I tuned out everyone who was in the room. Everyone accept Midori.

The flogger was heavy and the scent of leather surrounded me as the tails began to nip at my back and bottom. I smelled the essence of her latex dress and little by little I felt lead into a sense of well being. Slowly she warmed me up and by surprise several times flogged with intensity. There was a kind of rhythm to her technique...even still, there were moments when she flogged with intensity and caught me by surprise. I felt myself anticipating and welcoming the hard strokes. I can't say that I ever knew what to expect. There were times when I was totally in the moment and other times when I was on pins and needles. All I could do was breathe in through my nose and out through my mouth, feeling every wonderful connection with her whip. I could feel her behind me as she gently placed her hand around my waist. Slowly the connection with her changed and I could feel the tails of the flogger again against my back. She then turned me around and while instinctually leaving my eyes closed, she asked me to lift my chin. Midori began flogging my chest right through the fabric that covered me. I could feel my chest begin to warm as she increased the strokes with intensity. She brought me out of this trance I was in by methodically slowing her pace. Then I could feel the flogger slowly and nurturingly wrapping itself around my legs and bottom...My chest was hot and had a comforting sting. I could feel her directly in front of me and as I opened my eyes I looked into hers as I embraced her. What a tremendous feeling...and what a tremendous gift.

It is a gift when one's body has been played with in such a way that lends itself to honor and gratitude...I will treasure that moment with her for a very long time.

At the risk of repeating myself, I can't say enough about how in touch this woman is with another's spirit. For those who were graced with a session with her as a prodomme, count your blessings. Every domme is different and in saying that...anyone can provide a service or perform a procedure of sorts in the line of D/s and SM but it is that interconnectedness that makes all the difference in the world and a scene truly special and rewarding.

The dungeon party on Saturday night was amazing and fun! All sorts of people were having fun with electricity, nylon stocking mummification / nylons stockings, bullwhipping, paddling...to name a few. But one scene in particular was incredibly remarkable and such a site to see. This was a pony play scene that was going on in a corner of the room lead by Amanda Wildefyre with Charger Pony Charger: ChargerPony.com I was told by Amanda that the pony display was a collaborative effort.

This brilliant display must have taken much preparation, as her pony (Charger) was encapsulated in a fiberglass pony formation. The fiberglass casted body was cut in half lengthwise and locking hinges were placed so as to hold the body together. Charger had a leather pony hood on and a nice electrical butt plug in his bottom to keep him....uh, entertained?! Charger would let out a little yelp when the electric was turned back on...I just loved hearing him breathe hard through his pony headed hood. (Ride him hard and put him away wet I say...)
A saddle was placed on his back so the ride would feel good to the rider, and the entire pony was suspended by a specially designed suspension system with springs. I must say, it was the adult version of a bouncing pony toy. You know, like the ones you grew up with. The best part was that Amanda had two holes drilled in the saddle so two vibrators could be placed underneath. The attachments were capped off at the top of the saddle, so the rider could sit down and feel pleasure during the ride....now this was truly great.
Sharina giving Charger a drink...
I changed my clothes as it would have been difficult to ride Charger with my Morticia dress complete with a corset. Amanda lead me to her Charger Pony and I mounted him from the side. I began rocking back and forth and up and down...it was really quite fun! Then she turned the vibrators on. Well, this wasn't enough to give me an orgasm, but amazingly enough the vibrations caused me to feel quite erotic long after I had jumped down from being on Charger...In fact, it was quite torturous! I felt delicious for the rest of the evening.

I decided to take my humming body around the dungeon and see what else was going on. My friend Redline was playing with an electrical box with a handle on the side. This thing caused quite a reaction from anyone who was willing to put these little silver mesh rings over their fingers or toes. As the handle was cranked slowly, an intense electrical impulse was inflected throughout the body. It was GREAT watching the body shiver with delight as the handle was cranked harder! Such a delightful reaction. Thank goodness I wasn't cranking the handle on the box...ceiling darts anyone?

Walking a little further I spied Robert Dante who is truly an artist and expert in the arena of bullwhipping and single-tail whipping. I was mesmerized by the beautiful way in which he mastered the whip. The whip effortlessly moved around him in a circle when he wasn't taking aim at his sweet little target letting out the most yummy squeals! The whip cracked magnificently as it flew through the air. Truly mesmerizing...

My foot slave mike reserved a room for us for Saturday evening where we could actually lose an hour of sleep because of daylight savings time and make it to Midori's 9 AM (which was really 8 AM) Japanese Bondage Workshop. Who in their right mind would ever want to miss this!!?!! Soooo, I meandered back to the room with my foot slave in tow. Of course he was crawling on the floor hopelessly, wondering if I needed any help with the boots I had been walking around in for hours. Well, that was rhetorical! I sat on the edge of the bed while he peeled off my boots and felt my warm marshmallowy feet pressing up against his face. Needless to say, he was in heaven and once again...where he belonged.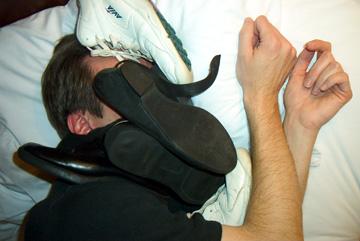 foot slave mike sleeps with a pile of his Mistress' shoes!
The next morning a few of us decided to wear our jammies to Midori's Japanese Bondage workshop. This was really Amanda's suggestion, and since childlike fun is my middle name, especially when I am only half awake, I wrapped myself up in my blue satin robe with the soft cotton insides, my pink and black Vickies nightie and my slippers...a few heads turned as I entered the room. I was asked what I was wearing underneath by Amanda, so I of course complied with a slow flash of my robe. Quite playful that morning...very unusual for that time of the day when I have been up all night. Then again, all I need is an audience. Besides, you can sleep when you're dead.

Midori began her introduction to Japanese Rope Bondage by giving a little history about Japan itself. In fact, in her book (The Seductive Art of Japanese Bondage) she describes certain aspects of the folkloric History of the rope in Japan...all very interesting and quite unexpected. This woman as well as being beautiful and talented in her craft is very knowledgeable to boot.

She then asked for a volunteer for her demonstration and there went up several hands but one in particular. There it was...a hand very passionately waving in the front row. It was quite wonderful to watch her play with this man. Her subject admitted his love for rope bondage and as she began to play with him, she took the rope in her hands and began to drape it tenderly all over his body, slowly sliding the rope over the skin of his body. It was amazing to see him immediately go into a space. His breathing changed and became slow but deliberate. His body slightly began to sway and dance. I don't remember how long she played with him because I was enmeshed in her display of interconnectedness with him and how playing with him was a little like her having a puppet on a string. (no pun intended) She began to tie him and then she tied him tighter until she eventually had him completely off his feet...As if by magic...the same way she seductively got him into that position, she seductively got him out. I could hear him breathing passionately throughout the scene. It was wonderful to watch.

When she finished, he just stood there with this dreamy look all over his face. I concur with him as I had the same feeling and the same look all over my face too when she finished flogging me. (drool cups please) She embraced him warmly and then lead him to a chair. (forget him, he's gone) It truly was so wonderful to watch her.

I really needed to fan myself at that point...My slave and I went back to the room where I changed into real clothes and I decided what seminar to go to next.

I opted for the workshop given by Lord Wolf on electric play. This man was FUN and had an amazing talent for delivering useful information with an evil sense of humor. He was also in charge of organizing this event. I must commend him for his effort, as I would love to see this event grow into something like The Black Rose. I applaud him for his successful efforts!

We were given an informative brochure on the subject of electric play as well as a few demonstrations with the violet wand and all it's wonderful attachments. The tens unit, and Redline's hand crank telephone generator were also demonstrated. Lord Wolf also went over items like the bug zapper/tennis racket, stun guns and cattle prods. Many words about safety were offered, especially with the latter.

This workshop was over too soon as I thoroughly enjoyed not only the information, but the playful good natured way in which the information was delivered by Lord Wolf.

Next, we caught the tail end <pun intended> of a Part One workshop given by Robert Dante. (video: Bullwhip/Art of the Single-Tail Whip, Book: Bullwhip Magic) The end of Part One workshop was informative and exciting as he was demonstrating his techniques on a lovely unclothed female who so graciously gave her body to Dante, so I decided to stay for Part Two.

This man can throw a whip! He is skilled in his delivery and remarkable at hitting his target. I remember seeing him single-tail whip a female at the dungeon party on Saturday night and from what I witnessed, he was a single-tail wizard. In watching him I was reminded of the beauty such a dangerous implement holds and if used improperly can severely damage needlessly... A little note of wisdom here and observation. When you see someone perform the art of their chosen craft in any of the forms of BDSM, do whatever you can to have an experience with this person. Chances are, they enjoy it because they have a gift.

I went home elated and tired, reflecting on the days behind me feeling very thankful that an event like this was possible in the Twin Cities of Minneapolis. November proves to be just as rewarding with Snow Bound in the works, November 7, 8 and 9...So, I will surely look forward to seeing you there if things go as I plan them for now.

When you congregate with like minded people who share your passion for a certain lifestyle it's possible critical mass can take over and spread throughout the land so that BDSM is no longer something others form judgments about because they lack information and education.

It is important to share, connect and respect each other no matter what we believe...

-M Sharina