Dominatrix Mistress Sharina Nicole Mpls, MN
Minnesota's highest rated & reviewed Femdom Dominatrix Mistress
abdl - bdsm - bondage - cbt - corporal - crossdressing - erotic hypnosis - femdom - feminization, foot fetish - foot Goddess - forced fem - humiliation - latex rubber - medical sessions - role play - sissy training - spanking - tickle torture - trampling - more  
This web site is for ADULTS ONLY. Please exit this site if you are under the age of 18. All images, text and data on this web site are copyright SharinaNicole.com and their respective owners and are protected under international copyright law.  No copying, duplicating, distribution, publishing, downloading is permitted without first obtaining the written permission of the copyright holder(s). This web site contains material deemed to be of an adult nature, therefore by entering this web site you state that you are 18 years of age or older.
18 U.S.C 2257 Record-Keeping Requirements Compliance Statement
All models appearing on this site are 18 or older.
© 2017 SharinaNicole.com All rights reserved.
Sharina Nicole in HOM House of Milan Knotty Magazine
House of Milan's Knotty Magazine Vol. 3 No, 5
(HOM Knotty Magazine Vol. 3 No. 5)
HOM House of Milan's Knotty magazine
Many years ago, I was featured in HOM House of Milan's Knotty magazine. It was one of my first forays into BDSM and bondage. House of Milan was a well-known magazine publisher famous for the retro vintage "HOM Bondage Classics", "Bound to Please", "Hogtied", and many other vintage BDSM magazine titles.
The title of the Knotty magazine layout was "A Friend In Twine, Keeps A Friend In Line". Even so long ago, I was the dominating one!
In the vintage Knotty magazine layout, I'm named "Tess" and I'm dominating "Darlene", who I had put into a very precarious situation bound helpless in tight rope bondage, her panties pulled down, a ball gag in her mouth, and entirely at my mercy, WHICH TO THIS DAY, I LOVE. That was many years ago, and although much has changed, some things stay the same.
This retro vintage BDSM magazine was extremely difficult to find, and I wanted to share MY experience and pictures.
I have changed SO much since then, and it is interesting to look back on how far I've gone.
Through my website, I love sharing MY journey with you!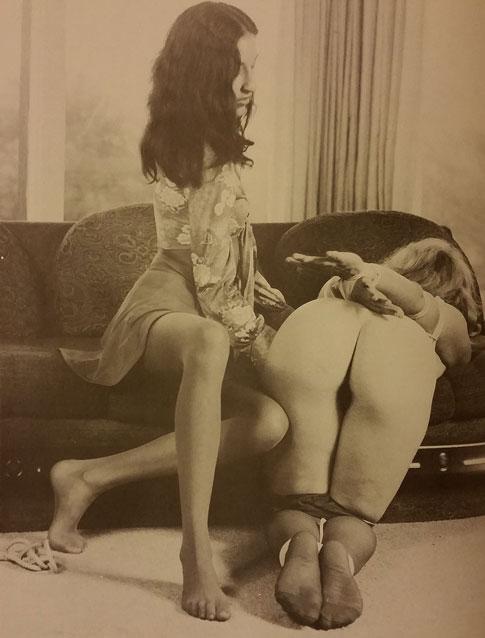 For reference, here is the magazine cover for House of Milan Knotty Magazine Vol. 3 No. 5.