Dominatrix Mistress Sharina Nicole Mpls, MN
Minnesota's highest rated & reviewed Femdom Dominatrix Mistress
abdl - bdsm - bondage - cbt - corporal - crossdressing - erotic hypnosis - femdom - feminization, foot fetish - foot Goddess - forced fem - humiliation - latex rubber - medical sessions - role play - sissy training - spanking - tickle torture - trampling - more  
This web site is for ADULTS ONLY. Please exit this site if you are under the age of 18. All images, text and data on this web site are copyright SharinaNicole.com and their respective owners and are protected under international copyright law.  No copying, duplicating, distribution, publishing, downloading is permitted without first obtaining the written permission of the copyright holder(s). This web site contains material deemed to be of an adult nature, therefore by entering this web site you state that you are 18 years of age or older.
18 U.S.C 2257 Record-Keeping Requirements Compliance Statement
All models appearing on this site are 18 or older.
© 2017 SharinaNicole.com All rights reserved.
Chicago Foot Fetish Olympics with Foot Goddess Mistress Sharina
 I happened to run across some of these old pictures from an event known as "The Foot Fetish Olympics". The technology was quite different then, and so was the resolution of photos and videos.
I'll keep an eye out for the larger, and higher resolution pictures, and when found, I'll update this page with them. The following was a post that slave mike wrote documenting the event, and pb99, Trampleguy, footslave, and phil-atio foot (the host of the event), all chimed in and commented.
 - This email address is being protected from spambots. You need JavaScript enabled to view it.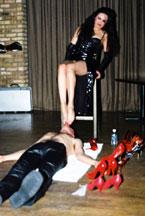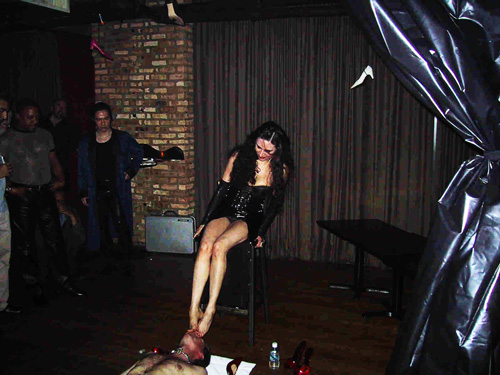 ---
 

#227234

-

07/10/02

06:33 AM

Attending the Foot Fetish Olympics with Ms Sharina

Regular

Registered: 12/06/01
Posts: 337
Loc: Minneapolis, MN

i had the great honor of attending the Foot Fetish Olympics with Mistress Sharina Nicole (www.sharinanicole.com) recently. It was a weekend i will never, ever forget!

The teasing and tormenting began immediately. As i picked my Mistress up at Her apartment early Saturday morning, She made a point of telling me how warm and marshmallowy Her feet were going to be from wearing Her Harley Davidson boots. While sitting at the Minneapolis-St. Paul International Airport waiting for our flight to Chicago, She told me She was going to wear the same pair of socks all weekend, and that She would send them home with me at the end of our trip. my Mistress is so thoughtful.

On the flight from Minneapolis to Chicago, Mistress Sharina removed Her boots and socks, exposing Her beautiful feet to me. "Now don't get all weird on me," my Mistress said, knowing what effect Her feet have on me. As Mistress Sharina's collared foot slave, i am madly in love with Her feet. In fact, you might say i am addicted to them.

We rented a car in Chicago, and on the drive from O'Hare Airport to the Hyatt Regency Chicago, my Mistress again removed Her boots and socks and placed Her feet on the car dash, purposely teasing me some more. This would be a central theme that would run through the entire weekend. Anytime we were driving somewhere, Mistress Sharina would tease me with Her glorious fee. i can't tell you how many accidents we nearly had as i found it nearly impossible to concentrate on my driving!

After arriving at the hotel and checking into our room, my Mistress ordered me to remove all my clothes. She then asked me to take out my collar. i removed my collar from my carry-on bag and handed it to my Mistress. She ordered me to kneel before Her. "During this trip you are not to put your collar on yourself," She explained as She placed my collar around my neck and locked it. It would stay there for the rest of the weekend.

i was allowed the privilege of worshipping Her feet for a few minutes before being ordered onto one of the beds. i was instructed to get on all fours, making my behind readily accessible. Out came the floggers and the cane. It was a relatively brief corporal punishment session, as my Mistress had some shopping to do. After all, we were just a block away from Nordstrom!!

After some shopping and lunch, we went back to the hotel. Again, i was ordered to take my clothes off. Mistress Sharina attached a leash to my collar, placed a blindfold over my eyes, and then ordered me on all fours. She then led me around the room, allowing me to kiss and lick Her feet once i was able to find them. We eventually made our way into the bathroom, where my Mistress ordered me to lie on my back in the bathtub. She then removed the blindfold from my eyes and stood over me. At that point i was treated to a golden shower. i was in heaven!!!

After cleaning up we had a cocktail and dinner at the hotel and then drove out to the Leather Rose, where we met up with Phil-Atio Foot, organizer of the Foot Fetish Olympics. We also met Mistress Simone, who owns the Leather Rose. After visiting for a bit we returned to the hotel. Upon arriving at our room, my Mistress once again ordered me to remove my clothes. She then proceeded to mummify me in plastic wrap, rendering me completely helpless. She then threw me onto the bed. What followed was two hours of foot worship and smothering. Needless to say i was a complete mess by the time She had finished with me! It was about 6 a.m. by the time we went to bed. i couldn't help but dream about what the rest of the weekend would be like!

We awoke around noon on Sunday, and i was given the opportunity to worship my Mistress' feet while She lay in Her bed. After getting cleaned up we went shopping once again, checking out the many leather and fetish shops on Halsted Street. When we returned to the hotel, my Mistress opened up the refrigerator in our room and began looking around. It was stocked with liquor, soft drinks and various treats. She asked me if i liked Kit Kat bars, to which i said i did. So, She took a Kit Kat in Her hand and walked into the bathroom.

"Come here slave," She commanded. i walked into the bathroom and saw that She had unwrapped the Kit Kat and placed it on the bathroom floor. "Down on all fours," She ordered. i immediately dropped to my hands and knees and then watched my Mistress grind the Kit Kat into pulp with Her high-heeled pump. She lifted Her shoe to my face and ordered me to lick the candy bar from the bottom of Her shoe. She didn't have to tell me twice!! After cleaning the bottom of Her shoe, Mistress Sharina removed Her shoes. She squished and smashed the Kit Kat some more with Her bare feet, and then allowed me to lick the treat from Her feet. It was the first thing i had to eat all day, and it was DELICIOUS!!!

After the foot fun, it was time to take a shower and get dressed for the Foot Fetish Olympics. We went downstairs to the Big Bar for a cocktail, then went to Stetson's - a five-star restaurant located in the hotel - for dinner. i must say Mistress Sharina drew quite a bit of attention! As we waited for our food, my Mistress removed one of Her shoes and placed Her bare foot in my lap. i immediately got excited and began to rub Her foot. She would occasionally raise Her foot to my chest, making it plainly visible to the gentleman sitting at the next table. He looked shocked to see such behavior taking place in a classy restaurant! Personally, i didn't care what he thought, and my Mistress was unaware he was watching, as Her back was to him.

We had a glorious meal, but it was now time to head out to the Spy Bar for the event. We met many of the other participants. They were all very nice and it was so much fun getting to know them. Before long, it was time for the show to begin. First up was the measuring contest. In this contest, the other slaves and myself were blindfolded. One by one, a Mistress would sit before us. The object was for the slave to lick the bottom of the Mistress' foot and guess what size Her foot was. We would each get five chances…with five different Mistresses, and we were given credit for a correct answer as long as we were within a half size. i went first, and i guessed three out of five correctly. Mistress Sharina was not among the five Mistresses that i had measured.

Three other slaves also got three correct, so we had to have a tiebreaker. There would be a second round, this time with three Mistresses each. And this time, there would be no room for error…we had to guess the EXACT size to be considered a correct answer. i guessed wrong on the first one, but got the second one correct, guessing a size 7-1/2. i was wrong on the third and final try. The other three contestants did not get any correct in the second round, meaning i was the winner of a $25 gift certificate from the Leather Rose. After being announced the winner, my Mistress came out and gave me a hug. It was then that She let me know that it was Her feet that i guessed correctly during the second round.

The next event was a pie-eating contest. Well actually, it was raspberry cheesecake. The object of this contest was simple…to see who could eat a large slice of cheesecake the fastest. Of course, the cheesecake was to be fed to us slaves by our Mistress' feet. My Mistress and i have done some food play in the past, with things such as strawberry shortcake, Scooter Pies, strawberries, and of course Kit Kat bars! i must say my Mistress was quite skillful in dishing up the cheesecake with Her toes, not spilling a drop. i eagerly sucked the dessert from Her toes. i could tell we were in close contention for first place, but the heavy, rich dessert got harder and harder to get down. As Mistress Sharina stuffed the last little bit of cheesecake into my mouth, i heard Phil declare there was a winner. We were so close!!

It was now time for our performance, as Mistress Sharina and i had been asked by Phil to do a demonstration. We had 15 minutes, which is barely enough time to get warmed up. But we made the most of the time we had. The scene included barefoot and high-heeled trampling, foot smothering, toe-sucking and a bit of erotic domination. The crowd seemed to enjoy it.

The event ended with the Hottest Feet Contest. During this contest, an assortment of Mistresses, including Mistress Sharina, would be judged in the areas of foot smell, taste, feel, quality of pedicure, as well as overall appearance. i was lucky enough to be one of the five judges. The Mistresses were taken behind a curtain. One by one, they would stick their feet through an opening in the curtain so the judges would not know who was who. As judges, we would take our turn assessing the feet of each Mistress and grading them in the various categories.

Mistress Sharina was the sixth contestant, and as soon as i saw Her feet poke through the curtain i knew they belonged to Her. After all, i have worshipped Her feet so much that i know every square inch of them quite intimately!! Needless to say, Mistress Sharina was first on my ballot. Among the Mistresses who participated, Mistress Sharina placed third. <sigh>&#8230;i guess everyone has their own tastes.

As the event came to a close, we said goodbye to the many wonderful people we had met. After getting back to our room i was allowed to lick my Mistress' feet some more as She lay on Her bed. She ended up falling asleep, so i decided to take a shower. When i got out of the shower my Mistress was awake and was doing some packing, as we would need to leave the next day. When She finished, She ordered me onto my bed and allowed me to worship Her feet some more before going to bed. It was nearly 5 a.m., and we would need to get up by 10 a.m. to get packed up and check out by noon.

Monday morning came too soon, and it was time to prepare to head back to Minneapolis. As my Mistress finished packing, She presented me with the socks She had been wearing all weekend. i immediately brought them to my face and buried my nose in them. They had a wonderful scent!! i couldn't thank Her enough.

During the flight back to Minneapolis i reflected on the weekend. i thought about how lucky i was to be allowed the privilege of serving such a wonderful Mistress. i thought about how lucky i was to be in Her presence for three whole days (this was our first trip together). While i had many great memories, i was also feeling a little blue. i didn't want the weekend to end. i didn't want to go back to the vanilla world.

We arrived back in Minneapolis around 6 p.m. During the drive to my Mistress' apartment it was obvious She could tell what my state of mind was. We got to within a mile or two of Her apartment when She asked if i felt like stopping off somewhere for dinner. "I think you need to decompress," She told me. Knowing that my Mistress was tired, since we got very little sleep over the weekend, i told Her i appreciated the gesture but that it was not necessary. i told Her i was okay, but She obviously knew better. my Mistress knows me quite well, so She knew the last thing i wanted to do was to say goodbye to Her. So we stopped at a nearby restaurant and had dinner and a couple cocktails. We sat out on the patio area. It was a beautiful evening, and my Mistress and i shared quite a few laughs. Naturally, She teased me with Her feet. We were sipping some fine tequila and at one point She placed Her big toe in the glass and brought it up toward my mouth. i was more than happy to lick Her toe dry!!

It was now time to drop Her off at Her apartment&#8230;or so i thought. Little did i know that my Mistress had one more surprise in store for Her desperate little foot slave. i prepared to make a right turn toward Her apartment, but my Mistress instructed me to take a left instead. We soon took another left into a parking lot. We now found ourselves at a playground. It was very dark, as it was about 11 p.m. Like a couple of kids, we played on the playground equipment for probably 10 or 15 minutes. my Mistress then ordered me to lie down on my back. Sitting on the playground equipment near my head, my Mistress placed both feet over my face and began smothering me. "And you thought the foot worship was over, didn't you slave?" my Mistress asked. This went on for quite some time, and eventually it began to rain. In fact, it was raining quite hard, but we didn't care. We eventually ran back to my car, both of us soaking wet. What a wonderful way to end the perfect weekend!!!

i dropped my Mistress off at Her apartment, and we said goodbye. As i drove myself home i was in a trance. This was a weekend that i will fondly remember for the rest of my life. Thank You, Mistress Sharina, for making yet another dream come true. You truly are the greatest Mistress in the world!! i dedicate my life to serving You.

_________________________
sweet pea (aka slave mike)
---
Re: Attending the Foot Fetish Olympics with Ms Sharina

[Re: sweet pea]  

#227235

-

07/10/02

07:26 AM


Addict

Registered: 02/20/02
Posts: 4683
Loc: LA, California

Hi sweet pea,

Thank you for taking the time to write so descriptively about your fun weekend with Mistress Sharina.
It's great how you appreciate Her natural and unaffected control over you.
I understand how even after spending so much precious time with your Mistress, how hard it is to leave Her company.

pb99
---
#227238

-

07/10/02

01:11 PM

 Re: Attending the Foot Fetish Olympics with Ms Sharina

[Re: pb99]


Regular

Registered: 12/06/01
Posts: 337
Loc: Minneapolis, MN

pb99,

Thanks for your reply. Yes, Mistress Sharina certainly has me under Her control....all it takes is the mere wiggle of a toe! <lol>

And yes, it was hard saying goodbye when W/we got back into town. That's why i appreciated so much Her suggestion of stopping for dinner, and then of course the little excursion to the playground. Mistress Sharina considers Herself a sadist...which She is, but She is also very kind and considerate. She likes to call Herself a "nurturing sadist."

i do consider myself very fortunate.

Glad you enjoyed the review. Best wishes.

_________________________
sweet pea (aka slave mike)
---
Re: Attending the Foot Fetish Olympics with Ms Sharina

[Re: sweet pea]

#227239

-

07/10/02

09:00 PM


Occasional

Registered: 01/10/01
Posts: 57
Loc: WI. near the twin cities

Hi-ya Mike,

I must have missed this post somehow. Ya know I was
asked to go to this event also, but that &#$% work
schedule didn't allow it. I also found that the guy who
put on the event was looking for trample victum for two
other doms. Anyhow, it looked like you had a wonderful
time and in short I ditto everything you mentioned about
Sharina throught all the message threads. Perhaps I'll
see ya in mid-july when I come over to help finish the
dungeon construction. Have you licked sheetrock dust
off of Sharina's toes??

Gotta run--take it easy!!!
Mitch (aka trampleguy)
---
Re: Attending the Foot Fetish Olympics with Ms Sharina

[Re: Trampleguy]

#227240

-

07/10/02

11:39 PM


Regular

Registered: 12/06/01
Posts: 337
Loc: Minneapolis, MN

Hey Mitch,

How's it goin' buddy? Yes, you missed a great event...we had a wonderful time. Too bad you weren't able to make it. You would have been the perfect trample victim!

As far as the dungeon construction, it sounds like we'll be back at it next Tuesday or Wednesday. Hope to see you there...it's really taking shape nicely!

To answer your question...i have sucked many things from the beautiful toes of Mistress Sharina, but sheetrock dust is not on that list...YET! We just may have to try that next week! <lol>

Anyway, i'm sure i'll see you at some point over the next couple of weeks. Take care.

Mike

_________________________
sweet pea (aka slave mike)
---
Re: Attending the Foot Fetish Olympics with Ms Sharina

[Re: sweet pea]

#227236

-

07/10/02

07:34 AM


Regular

Registered: 06/04/02
Posts: 146

I attended the Foot Fetish Olympics event and Mistress Sharina Nicole's performance was Fantastic and in my opinion the best part of the night, I also wish they would have alotted her more time for her performance, maybe next time.

sweet pea do You know if Mistress Sharina Nicole ever reads messages here or posts any messages, I think she deserves her own message board here

Thanks for sharing Your account of Your weekend with the Beautiful Mistress Sharina Nicole
---
Re: Attending the Foot Fetish Olympics with Ms Sharina

[Re: footslave]

#227237

-

07/10/02

01:07 PM


Regular

Registered: 12/06/01
Posts: 337
Loc: Minneapolis, MN

footslave,

Thank you for your kind words regarding Mistress Sharina Nicole's performance at the Foot Fetish Olympics. W/we had fun doing it, but W/we certainly would have liked to have had more time.

To answer your question, yes...Mistress Sharina does read the Max Fisch forums, but She has not ever posted anything Herself.

Thanks again for your compliments regarding Mistress Sharina....i couldn't agree with you more. Glad you enjoyed the review.

Take care

_________________________
sweet pea (aka slave mike)
---
Re: Attending the Foot Fetish Olympics with Ms Sharina

[Re: sweet pea]

#227241

-

07/12/02

01:47 AM


Regular

Registered: 02/09/02
Posts: 172
Loc: Chicago

Slave Mike,
Sharina and yourself f#%king rock! I hope to see both soon I'm planning a Laborday weekend Event. Please contact me I have something for you and Sharina.

Always a Footslut
Phil-latio-foot
---
Re: Attending the Foot Fetish Olympics with Ms Sharina

[Re: phil-atio foot]

#227242

-

07/12/02

03:45 AM


Regular

Registered: 12/06/01
Posts: 337
Loc: Minneapolis, MN

Thanks Phil, and thanks for putting on such a wonderful event. Mistress Sharina and i thoroughly enjoyed the event and the people involved.

i will give you a call.

Regards

_________________________
sweet pea (aka slave mike)
---
to phil-atio foot

[Re: phil-atio foot]

#227243

-

07/12/02

03:57 AM


Regular

Registered: 06/04/02
Posts: 146

Hi,

I attended the foot fetish olympics II event and it was GREAT! I must say in my opinion Mistress Sharina Nicole's performance was the best part of the evening, I wish she could of had more time, I could have watched her trample all night longggggggg

I LOVE to watch a beautiful woman trampling her slave! If Mistress Sharina Nicole honors us with her presence again, Please Please Please Please alot more time for her performance!

If I may make one more suggestion for upcoming events, I would LOVE to see more performances by the various Mistress's, especially trampling.

PS How come You didn't do the deep throat contest at foot fetish olympics II?

Keep up the good work and I hope You continue to host new foot fetish events!

Thanks
---